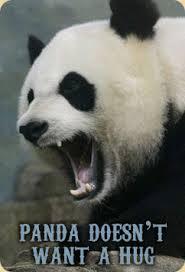 What Are The Cruelest Animal Parents?
Pandas, seahorses... So many cruel animals you don't even know are so mean. They can look cute, fuzzy and exotic- but be very terrible to their own young! So what I wonder is, which is the most cruel out of all the ones you know?
▼Scroll down for more questions▼
Answers (
8

)

vote up or down the answers
Polar bear, but only the males, DEY EAT BABY POLAR BEARS! ;(
on June 08, 2014
Gueinne( dont know how to spell it) pigs sometimes when stressed eat their kids.
on March 23, 2014
Well, all of them are kind of cruel exept from elefents (cant spell sorry) they protect and care for their babies while most other animals could watch them be killed
on March 22, 2014
on January 12
Pandas, they have baby's and just abandon them! It's worse than eating them, cause there just ganna die anyway, and they won't even get to live an OK life..
on October 11, 2016
Male Polar bears eat baby ones
on November 08, 2015
on March 22, 2014