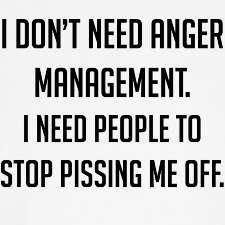 Do i have anger issues?
Ok so i just got into a fight with my bff. i gotta admit i was kinda being a b*tch but so was she.. anyway i beat up my special need sister for stupid reasons. i do the same to my brother. i cant clam down without destroying something. also i mutter things under my breath about people i don't know. i am kinda a b*tch but i know you guys aren't doctors but do i have anger issues? (Also quick disclaimer for people who don't have anger issues. if you have anger issues it doesn't mean your weak! so don't start telling me i am weak) and i took some things onilne and it said i do... help me get out of this if u can!
▼Scroll down for more questions▼
Answers (
9

)

vote up or down the answers
I AM THE BFF. I WAS NOT BEING A B*TCH. ALL I SAID WAS TO NOT TAKE YOUR ANGER OUT ON ME. HOW WAS THAT BEING A B*TCH?!?!?!?! WELL YES, YOU DO HAVE ANGER ISSUES, AND I DID NOT DESERVE TO GET WHAT YOU GAVE ME AND CALLED ME. (I will not name what she called me...)
on December 11, 2014
When you go to bed those nights, don't you feel the guilt while you lay there staring at the ceiling?

If you want to destroy something, forget about the innocent people and destroy something else instead.
on November 22, 2014
You do ... But dont worry maybe your like real annoyed but its best to punch something else other than a person because it really hurts them more than it hurts you!
on November 08, 2014
Yea, you do and if you're beating people up you need help ASAP. Have you told your parents?
on November 08, 2014
I think you probably do but its ok go to a doctor or something and when you are mad do something you like to calm you down and try not to hurt your siblings
on November 08, 2014
Unnecessary violence is all.
on November 08, 2014
Kinda? Ok im sorry but it'd very if you ask me...im sorry but you seem....you know....highly super agressive
on November 08, 2014
Thanks guys i kinda thought i did. also is throwing things across the room a symptom...? like your brother....? just curious
on November 08, 2014
Yep! I know about two people who have anger issues but they're still dear to me! Anyways, try doing this whenever you're angry~
1. When you're about to hit someone, stop in place, take a deep breath, and count for 5 seconds or 10.
2. Always bring something small but comfy in your hand so whenever you get mad, grip that item.
on November 08, 2014