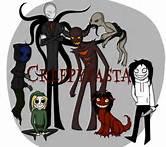 Which One Next?!
Ok so! I've read a bunch of Creepypastas and I wonder which one I should read next? And please none of the popular ones (Slenderman, Jeff the Killer, Jane the killer, Eyeless Jack etc....) I want something not very well known! Can anyone help me with this CP CRISIS of mine?!?!?
▼Scroll down for more questions▼
Answers (
6

)

vote up or down the answers
Well they are all in the creepypasta so we all kina know them all but I some not as popular creepypasta

Their are. Mmmm... so may oh! I know we got Jason the toymaker,puppeteer and lulu I also readied the comets and I saw one the was not as popular it was Zero for me I was a little surprised someone knew her. Great job! For Lightstriker195 you deserve a follow.
Oh and I think I have one more it is the doll maker that all I got I hope these are helpful?
on October 31, 2018
I'm full of them:
Bunny man bridge
Zero
Abandoned by Disney
Room zero
Ticci Toby ( not really that well known)
Dogface bridge ( which is actually In the same state I'm in)
See More▼

Mario.exe
Sonic.exe
Pokemon lost silver
Lavender town syndrome
Tails doll
And if you read all these contact me somehow and I'll give you more
on May 15, 2014
annoora petrova
no end house
psychosis
on January 16, 2014
anasis goat man story
the Russian sleep experiment
Persuaded
on January 16, 2014
scp experiments some are based on true stories. also ticci tobi
on January 16, 2014