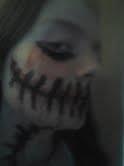 What do you guys think of my face paint I did? :3
yush I made this design on my face, by myself, with nothing but facepaint so whatdya think?^^
▼Scroll down for more questions▼
Answers (
12

)

vote up or down the answers
on July 09, 2015
That is really scary. You should be a professional.
on October 02, 2014
depending on what it is for/with if you just randomly wore it somewhere its would be kind of creepy, but if you did it for a Halloween thing its cool
on October 21, 2013
on September 10, 2013
It's awesomely cool!!! I love the mouth
on September 09, 2013
on September 09, 2013
AWESOMEEE YOU SHOULD BE A PROFESSIONAL
on December 13, 2017
Not bad! Not bad at all! Really good actually!
on April 11, 2014
on January 08, 2014
on December 27, 2013
Freaked out but cool the makeup makes you look like a skeleton or a creature unknown awsome job!
on November 18, 2013