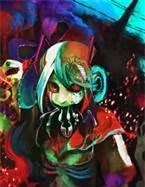 Does anyone know any good creepy vocaloid songs?
I LOVE creepy songs and I love vocaloid. I know some but they're not giving me the creeped out satisfaction I want. I mean scary,like, pee you pants scary!!
▼Scroll down for more questions▼
Answers (
5

)

vote up or down the answers
If you're like me, then not a single one will scare you. But, here are some pretty good ones. Most of them are more disturbing than scary, but you'll get the picture!
The Fox's wedding
The spider and the Kitsune-like lion
Gomen ne Gomen ne
Kagome Kagome
Reincarnation Ascention
Beheading Dance
See More▼


Hope you like them!
on May 16, 2014
This is Halloween? (Is that a Vocaloid? CX)
on October 30, 2013
OMG IM SO SORRY I DIDEN'T KNOW WHAT VOCALOID MEANT!
on August 21, 2013
I think that other song from Swan Lake is creepy if you hear it at night. But there's also this other classical song 2 people a girl and a boy agreed with me scary!
on August 16, 2013
ummm this one isnt very scary but its really good its called twilight homicide u should watch it xxx
on July 16, 2013