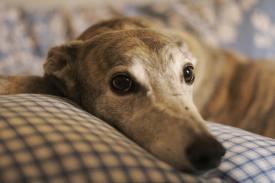 Random Facts About Greyhounds!
Can you give me some interesting facts about the 2nd fastest animal in the world...Greyhound!
▼Scroll down for more questions▼
Answers (
3

)

vote up or down the answers

Answer Link
they are slight hounds
they are close relatives to herding dog breeds
apparently greyhound comes from the old english grighund because hund means hound but nobody knows what grig means and it is not posssible for it to mean grey.
on February 09, 2013
Answer Link
Did you know a gray hounds come in 55 different color combinations ?
on February 09, 2013
Answer Link
They come in different types. The regular greyhound is big. The Italian Greyhound are small.
on December 12, 2013