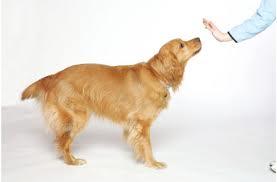 What tricks can I teach my dog?
I was just wondering because he is a small dog (schnoodle) and he does not have the intellegence to to specific tricks that bigger and intelligent dogs would be able to do.
▼Scroll down for more questions▼
Answers (
11

)

vote up or down the answers

Answer Link
Hi um I have to dogs I teach both I am 10 and to both I do the basics and some special ones that make them unique. For the boy he jumps on the table and I say axel hug and he will jump up put his paws on my shoulders and he lays his head down on my shoulder. Also one that I do for axel is gun shot I tell him to drop and then I pretend I have got a gun and make a shooting sound with my mouth and he rolls and lays there until I say axel rise. For Chloe she sings I am teaching
See More▼
her by me myself howling and going to different heights high low and she will try and do high and low depending on how I do it
on January 27, 2013
Answer Link
Well my dog knows sit, laydown , come, stay ,shake, jump and she sings (howls). I belive All dogs have the same intaligents level . So I would say you should start with sit and lay as well as come and stay. If you want any advice on training a dog feel free to ask me for help.
on December 06, 2012
Answer Link
There are lots of tricks for dogs, you might find interesting the following:
Shake Hands
Turn Around
Crawl
Cross Your Paws
Play Dead
Beg
See More▼

Kiss
Roll Over
Take a Bow
Fetch
Say Hello
Go Back
Yawn
Wave
Quiet
Which One?
Carry a Bucket
Twirl
Come (to a whistle)
Head Down
Go to Bed
Dig (or Find the Treasure)
High Five
Touch
Ring a Bell
Speak
Circle
Pick Up A Cane
Retrieve a Tissue
Carry a Lantern
on October 19, 2012
Answer Link
to sit lay down and roll over :)
on October 19, 2012
Answer Link
on March 07, 2015
Answer Link
It is a program I use:

Grade 1 Learns - Sit, Stay, Come and Paw or Touch.

Grade 2 Learns - Stand, Jump and Beg.

Grade 3 Learns - Lie Down, Teeth and Fetch.

Grade 4 Learns - Play Dead, Roll Over and Walk Back.


It is all up to the major grade 10, message me I will show you how to teach your dog all these tricks and explain what some of them mean.
on August 13, 2014
Answer Link
I'd teach it to get in my fridge and drink some beer. Oh yeah.
on July 21, 2014
Answer Link
wag his tail when hes getting shouted at lol
on October 20, 2012
Answer Link
on October 28, 2012
Answer Link
on October 28, 2012
Answer Link
on October 23, 2012