OC* X Canon Character scenarios
Ok, these can be cute, sad, funny, embarrassing, or pretty anything you want! Here's an example; Imagine your OC and [canon)-- Finish it!
On modern desktop browsers to select multiple photos, hold the Ctrl key (⌘ on Mac) while choosing photos. 35 photos per week limit. 5MB max/photo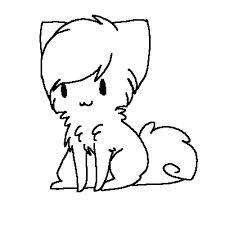 Parody of my new LGBT Story coming out on Qfeast
[OC(Cali Calico)] Hey Canon! *walks up to Canon*
[Canon] Get the hell away from me *takes out a knife*
[OC] *stops in fear* what's wrong?
[Canon] Bitch *swears* Your a cheater
[OC] What did I do? I'm not even DATING you...
[Canon] Shuuuure, why should I believe you?
See More▼

[OC] Because it's me, Cali. *Runs away in tears*
[Canon] *drops the knife in greif* I should have known...
on September 30, 2015
[Canon] chuckles as they look down (or up) at [OC]'s chocolate covered form. [Canon] leans down (or up) and kisses [OC], licking the chocolate off of their own lips. [Canon] playfully flips [OC] off and smiles brightly. "Happy birthday, you lil fuckker."
on September 29, 2015
It is Valentine's Day. Oh goodie. [Canon] runs like hell through the hallway, violently throwing a box of chocolates in [OC]'s face, yelling, "Happy Valentine's Day!" As [Canon] ran by.
on September 29, 2015
[OC] is acting like a three-year-old (again), refusing to go to the doctor. [Canon], clearly tired of [OC]'s shit, picks [OC] up by their legs, hanging them over their shoulder. [Canon] struggles with them as [OC] flails their limbs, trying desperately to get loose. [Canon] grips [OC] tighter, scolding, "Damnit! Stop moving! You're going to the doctor whether you like it or not!"
on September 29, 2015
Sorry for the spam, but I'm a writer, soooo.

[OC] is stroking [Canon]'s eyebrows as they gently sip on their cup of coffee, casually reading the newspaper as if nothing was happening.
on September 29, 2015
(OC) and (Cannon) just sitting together eating pasta, they are eaing the same noodle and stop and started to look at echother blushing.
on September 29, 2015
[OC] tosses and turns in their sleep, restless and flailing their legs around. [Canon], still trying to get their goddamn sleep, shoves a pillow on [OC]'s face, muttering, half-asleep, "Go the f*ck to sleep."
on September 29, 2015
[OC] and [Canon] are snuggled up in bed together, under countless blankets, both of them barely able to stay awake. Suddenly, [Canon] sneezes loudly, making [OC] jump a little and sleepily and limply smack [Canon]'s cheek.
on September 29, 2015
[Canon] tightly clutches [OC]'s hand, tears streaming down their face, as they watch blood pour heavily from [OC]'s side. [OC] weakly puts their hand on the side of [Canon]'s face, wiping away the tears as their eyelids grow heavier by the second. "I'll see you.. later.." [OC] weakly mutters as they completely close their eyes, ignoring [Canon]'s shouts to not leave them and to stay awake, and, finally, everything goes mute.
on September 29, 2015
Anime:
[OC] and [Canon] are walking through their favourite spot when the main villain of the series attacks. [OC] wants to help [Canon] but [Canon] says no, concerned for [OC]'s safety. [OC] tries to convince [Canon] that (s)he is ready to face danger, but [Canon] still doubts what [OC] can do, thus why (s)he is concerned. You decide their fate.
on September 28, 2015
Imagine if [Cannon] had to choose between killing [Oc] and then poofing somewhere else where they didn't haft to see [Oc's] pain or they have to stay their and can't do anything and watch someone brutally kill [Oc].
on September 28, 2015
Imagine (OC) and (canon) watching the eclipse while (canon or OC) "casually" wraps their arm around you pulling you close :3
on September 28, 2015
Kill Me Baby Ending Dance (Extended) [キルミーベイベー]
Extended version of Yasuna and Sonya's dance from Kill Me Baby's Ending. やすなとソニャのえんぶ。
on September 28, 2015
Imagine this:
"[OC] and [Canon] are sitting by a fire. They lean in to kiss, but at that moment, the fire makes a loud popping sound.
on September 28, 2015