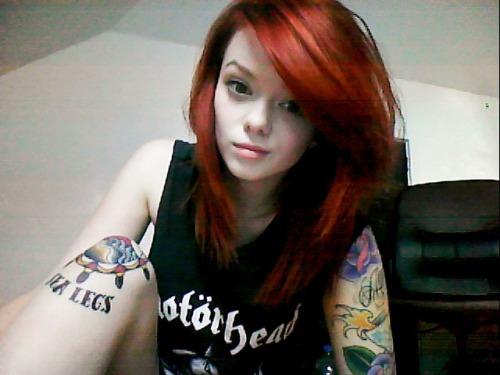 Avril Coral
Avril stood in front of the mirror and slowly opened her eyes to see the new person she had become. As the view got clearer a ditty smile crept onto her face.She turned her head to the side and a line of silver studs shone on her ear, she looked at her new nose piercing and stuck out her tongue to see her beautiful tongue ring. looked different and i loved it. my friend Mia Rivers watched as the hair dresser dried my hair. I handed the dresser a twenty dollar note and we walked out of the salon.
Mia: I still don't understand why you would get all those piercings or even dye your hair just for a guy
Avril: hey, its not just any guy its Nicolas Freyer. The hottest dude ever.
Mia: hes like 28 and besides he already has a girlfriend.
Avril: have you seen him without a shirt? Every girl is all over him you must be blind or something.
Mia: arrggg whatever!
Avril: hey dont forget to introduce us at your brothers party tomorrow.
Mia: i wouldnt count on it if i were you.
Avril: You just jealous.
Mia: Oh please (rolling her eyes) If i were you i would be worring about how to get past your mother looking like that. She almost threw you out when you came home with all those tatoos.
Avril: (her face changes) I know what im doing, okay.
Avril and Mia part when Avril enters her house and Mia continues her journey home.
***********
Avril enters the kitchen facing the ground, hoping to get to her room unoticed. Just as she puts her hand on the knob her mother turns around. Avrils heart started racing. Her mother gasped in horror.
Mother: what on earth
Avril: Mom i can explain.
Mother: dont tell me you were about to leave the room without helping me to set the table. Here put the plates.
Avril: (smiling with relief) Sure.
Avrils mother had noticed the different hair color and piercings but let it go. She did not want to raise her blood pressure unnecessarily.