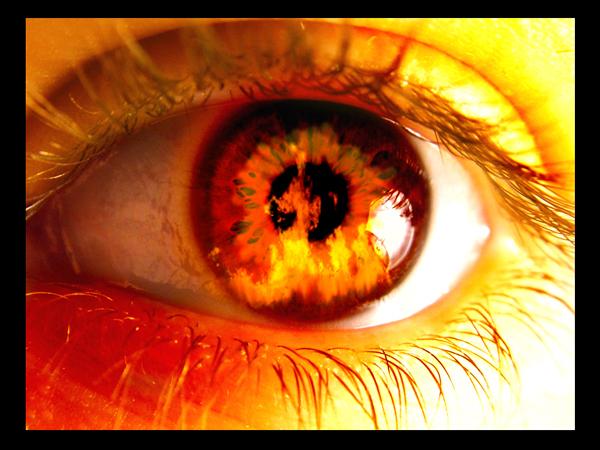 Flames
"FIRE!! The neighbors' house is on fire!" Everyone rushed around calling the ambulance and shouting for help. Neighbors n passer-bys hurried to help and enquire about people inside the house still in flames. The flames were growing higher and higher engulfing this beautiful mansion and creeping out in triumph. Surely, the people inside would have been reduced to ashes by now. No one can tell when the fire broke out. It probably started inside the mansion by accident in the kitchen or was everything intentionally put on fire?
"Where are the Derois?! The Derois family lives in this mansion for 8 years now!"
"We should get Mr Derois, his wife and child out! Where are they?"
Everyone was panic-stricken, worried about them when they caught glimpse of someone standing not far from the crowd. It was a woman. She was holding a 3 year old child in her arms, the child was probably sleeping but it was awkward how she looked motionless at the house on fire. Her long, straight black hair was shining in this light. As the fire was extinguished and everyone looked for the Derois, they realized the woman was Mrs Derois and the child was the daughter. Everyone rushed to her, made her sit down and asked to look at the child for bruises but there were none. No injuries. As the firefighters went in to look for injured people, they came out with Mr. Derois. He had multiple burns on his face and body, it was not a sight appropriate for children and even adults turned their heads in fear.
Mrs Derois was sitting near the ambulance with her daughter still wrapped preciously in her arms. She was trembling, moving back and forth on the chair, she had gone through a trauma. As doctors pushed her husband on the stretcher she looked at him. He was unconscious, not dead yet, but probably dying. He mourned in his state and was sent to the hospital immediately. Mrs Derois stopped rocking back and forth on the chair now. She stopped trembling and loosened her grip on the child still asleep in her arms. Her grey eyes were wide open; she looked at the ruins and remains of the mansion. An undiscovered smile formed on her white, parched lips... A hidden smirk was drawn on her face as she laid back and sighed.