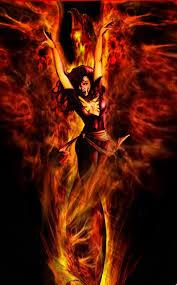 Moon
"Anna, Anna, Anna!"
"hmm. What?"
"He is looking this way, What should I do?" I looked at her hopeful face and decided to not just saying much and its not because I am horrible person which I am but he is a serious player.
"What ever you want Kala..."
"Ugh you are no help." She fixed her green curls and spun whipping me in the face. Then again she is a pixie sprite and lets her quest for fun get the better of her. A shadow crossed the ground and I couldn't scream fast enough because it was to late. The moon rose and shined its ever glowing eye on my best friend. She screamed and started to crumble and the school was in hysteria with people running for cover. I cast my flame high and covered her with heat. I'm a phoenix or at least a human-like one. I live in a town called Cross a place that is hidden from those who would wish us harm and by us I mean magical creatures. Things like werewolves ore vampires or pixies or the fae. People who in normal society are prosecuted but here we can be ourselves and people pass us by and see what we project. My dad runs the town but he is human. My mom was the phoenix she took human form to be with him and then left after I was born. The moon is our enemy for most of us and for those who it isn't protect those it is.