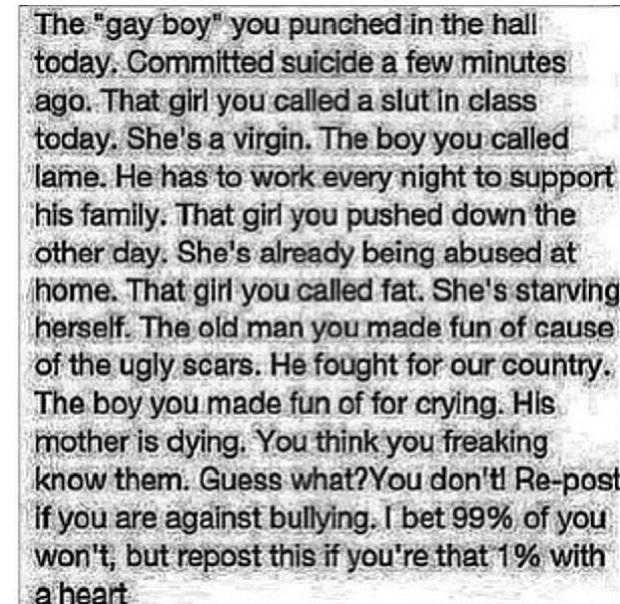 Be yourself
Remember To think before you say something or do something you'll regret in the future
Life's not about How you look, how your Dressed, what color your skin is, let alone your voice, flaws, nationality, the truth is..I could sit here all day naming every single thing people are judged about into this list. And actually it's pretty heartbreaking knowing that thousands to billions of people could actually judge someone to the point there's a list of things bullies have done or said. Now I'm not trying to hurt feelings, and I'd never intentionally do something that sad, but if your a bully, I have no idea what is going on in your mind, but really..I'd like to know.
I've been bullied, I know how it feels to want to harm yourself, to want to be something your truly not, to want to know who and what you are becoming because of selfish actions towards yourself. I know it all unfortunately.. but I've learned Alot through those suffocating days and I'd love to share.
Bullying is a bad act/habit caused by something that has happened in that person past, or even just to bring someone down.
What I've learned from being bullied all my life is that it is hard, it is sad, and most of all it is heartbreaking just to know how Cruel a persons actions and words can be. How can you change something I know you desperately wanna change but worry to much on the negative comments, and actions of another, if your not willing to give up crying, give up self harm, give up being that lonely person in the dark?
If you could turn things around and love who you are, you could change a whole lot..If I can change my life to a bright and blessed creation.. so can You!
Do not underestimate yourself. Remember, without your appearance, someone else's life won't be complete.
You were born to be real, not perfect. Love your flaws, love the way you dress, love everything there is about you, and most of all..Love yourself, BC I may not know you, but I do know your beautiful, and just as important as anyone in this world, and look xD Famous and rich people may seem cool, but being on TV, the internet, basically everywhere famous people are, that doesn't make them any more or less cooler than you are.