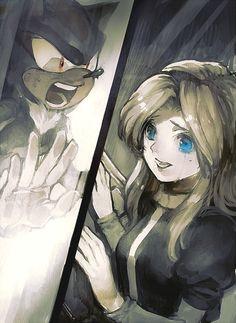 How Is This Happening?
Shadow's Point Of View
Looking up at the bright blue sky, dark memories of Maria blasted throughout the inside of my brain. The feel of Maria's little hands pushing me inside the cold, lonely escape pod still lured on my lower back. With my body trapped inside the escape, my fist banged and banged on the window trying to escape. I tried saving her. Why? Why, Maria! Clinching the picture of us in my fist, I felt tears starting to appear in my red eyes.
Shaking my head, I heard the laughter and excitement of relationships luring closer to me. The blue faker wrapping his arms around the pink one's small body. Gag me with a spoon. The faker always kept her on the side in my opinion. Using her as much as he wants since the squirrel did not even notice him. Along with the two hedgehogs, Rouge and the red echina were in a loving argument about the master emerald.
Walking away from the laughter, I could not stand the thought of the others being happy. Actually, ever since I stopped working for Eggman, I have not been happy. I guess knowing Eggman was a little part of Maria's family made me happy but the Ark. A mistake the Professor thought was brilliant, yet Maria loved this ignorant planet. But, why? Why wouldn't she let me help her?
As my memories slowly came back to me, I couldn't help but wonder more and more about my past. Could it still be trapped? However, the memory of Maria still ringed through out my head. Her body falling to the cold hard ground with blood oozing out of her back. No matter what I did that memory could not go away.
Walking through the forest, I heard a distance away the two tailed fox and rabbit talking about something. The tail seemed to be asking her a question about Valentine's Day. Why does these idiots care about a normal day? Guess that's what all the single people think.
As I walkied through the forest, I heard an argument approaching from an open field. Standing at a distance, I saw the green faker copy grabbing a beautiful blonde haired hedgehog with blue eyes trying to pull away.
"Stop struggling beautiful. Don't you realize it's Valentine's Day? I need a date." Scourge urged pulling her close. The thought of her being close to him made my heart beat and a strange feeling in my stomach. What is this feeling?
"Will you please let me go? I have to finish my mission." The girl urged Scourge to let go as she clutched a blue chaos emerald in her head. The girl seemed to have a sweet attitude towards her. I couldn't stand it.
"Oh, is this for me? Thank you." Scourge mentioned reaching out for the chaos emerald. Quickly chaos controlling to Scourge, I grabbed his hands off of the girl and threw him at a tree. "Dang, Shadow. Was I messing with your girl?"
"Go mess with someone else." I commented angrily. For some reason, I could not stand the thought of anyone else touching her. I wanted to protect this girl. After that, Scourge laughed and walked away. Looking at the girl, gratefulness filled inside those ocean blue eyes. Her blonde bouncy hair laying on her small body. Why does this girl seem so smiliar?
"Thank you so much mister! I could of really used it. That guy was so mean." Her eyes glared at me with such kindness that my heart began to beat. What the heck is this? I feel like Maria is near.
"Don't mention it. Be careful next time. Lots of people will want that." I tried to explain to her trying not to look at her face. I mean it is beautiful.
"Why don't you come with me? I'm sure Julian would be happy to see the person who saved me from that guy!" She urged wrapping her small fingers around my arm. Her soft touch sent goosebumps down my back along with my skin burning out. This feeling inside of me, I am so confused! Am I sick?
"Whatever." I said trying to calm my nerves.
"Oh, you don't have to be so mean, Mr. ?" She mentioned saying to get me to say my name. Oh, yeah I haven't told her my name. Stupid. Stupid.
"Shadow. You?" I quickly commented wondering her name. Her name had to be so angelic and beautiful. I could not wait to hear.
"Oh, sorry! My name is Maria!" She giggled with a smile curving high on her face.
"Maria..." My heart sank into a dark place shocked over who she was. How?