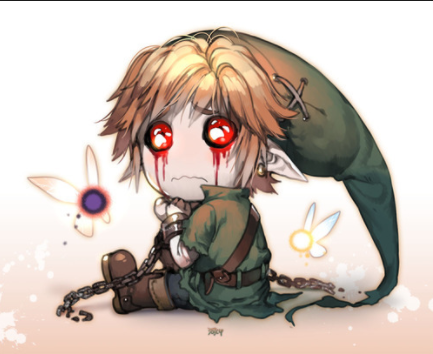 Chapter 1
Walking down the dimly lit street, you take your phone out and check the time.
10:43. You sigh and rub your arms through your navy blue sweater. It's starting to get a little chilly, and it looks like a storm is coming. You're still 2 miles from your house, and you don't want to walk there in the rain.
As if on cue, there's a crackling of thunder and a flash of lightning. A few drops of rain begin to fall, splashing on your head, staining your (H/C) hair. You race towards the nearest building, it appears to be an old abandoned factory. You put your hand on the doorknob, just as another crack of thunder sounds. You hear a startled cry from within the building, followed by muffled sobs. Your heart breaks as you hear the helpless cries of what you assume to be a young child.
You slowly open the door a crack, peering in. There's a single, overhanging lightbulb, illuminating the room just enough to see a small figure huddled in the corner. You open the door further, and rain rushes in, and another crack of thunder. The figure jumps, and twirls around, pressing against the wall.
"CLOSE THE DOOR! THE WATER! THE WATER!!!" A wail erupts from the child's mouth, and you hastily shut the door, stepping inside. It's colder in here than it is outside, and the child appears to be shivering. You take a few tentative steps forward, reaching down for the little boy. He flinches away from your touch at first, but eventually tilts his head up, giving you a clear view of his face.
You almost gasp, but you don't want to alarm the boy. He can't be any older than 6, 7 tops. He's quite petite, even for his age, and he has shoulder length blonde hair that sticks out randomly. His face is streaked with tears, but that's not the only thing on his face. His eyes are black, with red pupils, and blood stains his cheeks, seemingly coming from his eyes. He has a cute little smile, which stretches wide, but his teeth appear to have a reddish liquid on them. He's dressed up as that guy, Link, from Legend of Zelda, and he's wearing a little green hat like Link's too, although his is longer, and falls into his eyes occasionally. His smile falters when he sees your reaction, and he turns away, pressing his face against the wall. Your heart cracks open, suddenly filled with sympathy for the little guy. You can't bring yourself to be scared of him, he's too sad and cute.
You reach for him, wrapping your arms around his waist, and attempt to lift him. He squirms a little, but you hold onto him tight. He presses his face into your neck, sobbing, and squeezes you tight. You pet his hair softly, whispering calming words in his ears. His pointed, elf-like ears.
You begin to walk towards the door. "Hey little guy," You say, speaking softly. "Do you want to come home with me? At least until we find your parents." He shakes his head vigorously, struggling to escape your grasp.
"NO! NO! Not the water!!!" He shouts. He buries his head in your hair, and you sigh. He must be scared of water.
"What's your name?" You ask, and he swipes at his cheek, smearing blood all over his hand.
"BEN." He says, rubbing his nose, which makes him sneeze, a cute little sneeze, and you smile. Cutie.
"Well, BEN. I guess we're just gonna have to go for a ride in the… sweater monster!" You yell, placing him on the ground, and you start tickling him. He laughs and starts wiggling around. You remove your sweater and put it on him. He sticks his arms in the sleeves, and the hood fits right over his head, covering most of his face. He puts his arms up, in a gesture that he wants to be picked up. You swoop him up, and he laughs, hugging you tight. You open the door, and a bombardment of rainwater rushes at you.
BEN screams and cries, squirming in your grip, and you manage to make it home with the squirming child. You bring him inside, and he immediately shakes himself off and rushes up the stairs. You laugh and shake your head, following.
Extended ending brought to you by Jeff dancing to a certain fox song
You growl in frustration and look over at BEN, game controller in hand.
"BEN! How do you keep winning?" You ask, suspicious of his ways.
The young child shrugs, and you frown, making a suggestion.
"Best two out of three?"