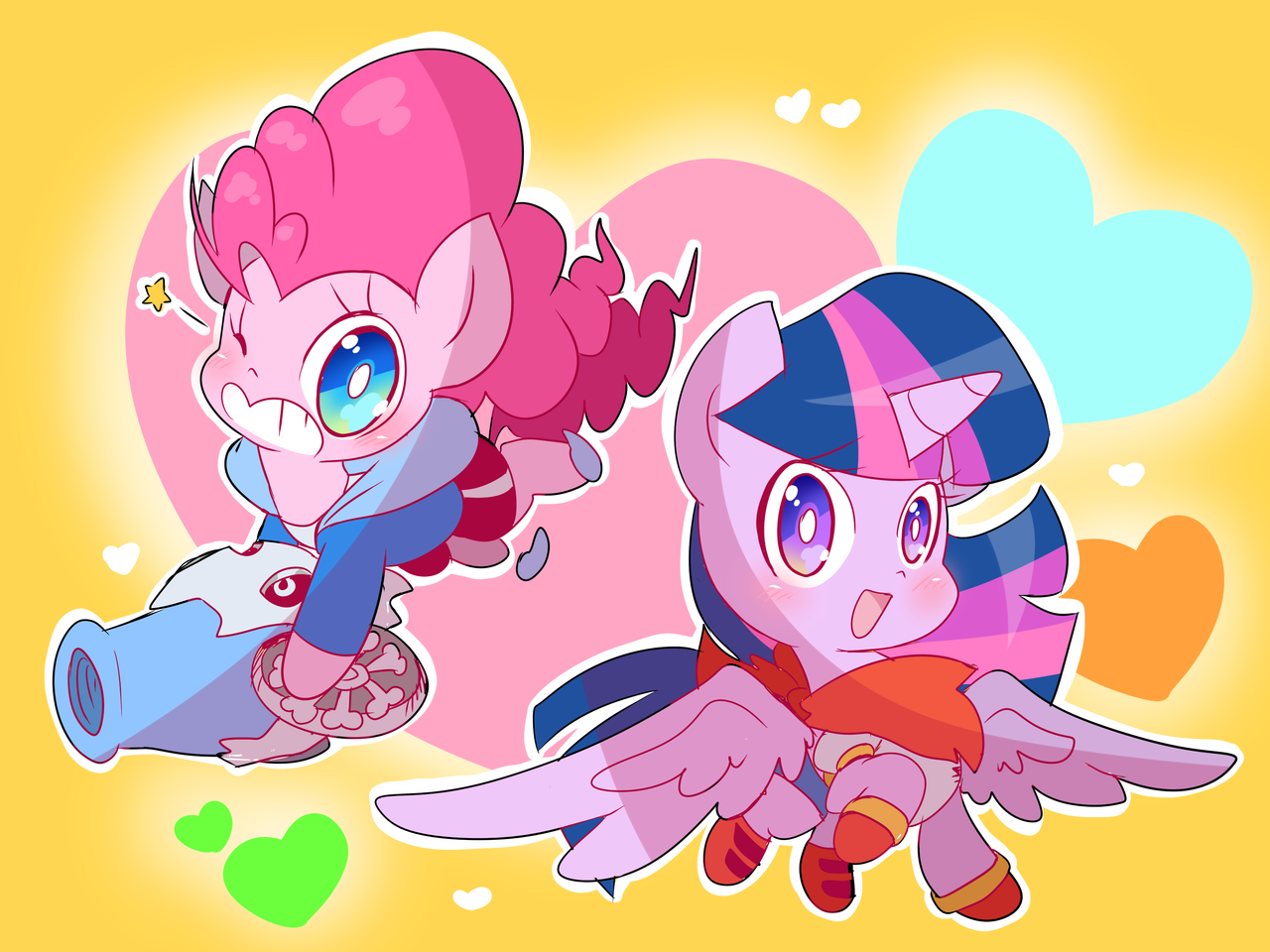 Author's note and stuff~
(Here's a cute picture of Pinkie Pie and Twilight Sparkle as the skelebros Sans and Papyrus :3)
~~~~~~~~~~~~~~
Hello there, glad you could make it ^-^
The name's Elina, and I'll be the author~chan for this world you will soon join, so sit back as I explain some basic info about this world.
But before that I want to thank you for taking a flight with Violets-airlines and I hope you enjoy the ride :3
✈❤✈❤✈❤✈
So as I said in the description, this is a (SansxReader) with the Classic Sans, so if you took this flight by mistake there are 2 exits on both sides of the airplane, please do make a safe exit.
For those who do actually want to read this, I feel very honored and will try to quickly explain so that you may enjoy your flight.
Things like:
* You don't have to know Everything of Undertale to understand and enjoy this story.
I would like to make it into a story you can see that I have written, so I'll add my own twists here and there, I dislike to copy the original since that takes to much time and effort for research.
But it will not go as far that the character are OCC's cause I dislike them even worse.
* Reminder on (Y/n) and the like;
(Y/n) = Your name
(L/n) = Last name
(F/n) = Fake name
(F/c) = Favorite colour
(L/f/c) = Least favorite colour
(E/c) = Eye colour
(H/c) = Hair colour
(C/c) = Clothing colour
(These are probably not all of them but we'll probaly notice that later, I think)
* This was originally not an xReader story, but I will try.
I have never tried making an xReader, so if I do bad please just point that out instead of insulting me. Thank you.
* I will make spelling-mistakes, but the story will stay readable.
* There aren't set times I update, but they are probably going to be slow, so I apologize in advance.
* Helpful comments are helpful and will fill me with DETEMMIENATION to continue writing :3
* I don't want to say this is a Slowburn love story
(Cause sometimes when authors say that the characters get married within 5 chapters)
But you can expect this story not to be fast with the love-stuff as I wanna make the characters go through the motions first.
So if you want love in a snap I suggest you follow the people who already left cause I don't want to cause a disappointment to y'all :3
* This is probably not going to be a long story, but I hope to give this story a good ending.
* I will always appreciate constructive comments on how to do and not do certain things, cause in the writing world I am considered a NOOB :3
✈❤✈❤✈❤✈
Wow, I said I would be quick with explaining but ended up rambling, my bad.
~~~~~~~~~
So yeah that was probably it, so thank you for giving this story a chance and I'll see you at the first real chapter :3
Have a nice day ^-^
- ElinaViolets