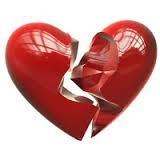 Love Falls Apart
Bright,
that is how it starts,
full of passion and fierce hopefulness that it shall always be,
and, for a while, it fulfills that dream.
Then,
it becomes a steady burn,
you think nothing can pull you two apart,
but, there is another way it could go.
Maybe,
it could fade,
end as quickly as and brutally as it started,
yet, it dose not sadden you.
Anyways,
to complete the other,
the scenario where the steady burn happens,
but, should know it doesn't end well.
Well,
it also fades,
not because of some argument over burnt bread that is really about something bigger,
but, because you learn that you just don't work together.
I,
well, I've heard of "soul-mates",
truly, I think it's wishful thinking that absolutely has no place in reality,
ya, we only have one person it the world that is right for us.
They,
the "soul-mate" people,
say that someday we will find her/him,
I say love falls apart, no matter what.
Love,
well love ends,
and it breaks my thirteen year old heart to think that,
my moth-old love shall fade, and fall apart.