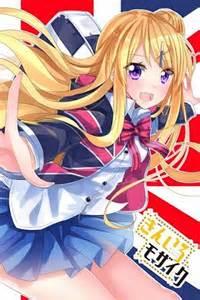 First Day
Tsniku: Ahh, first day at Check High. I just wish we wouldn't have to wear these stupid uniforms.
Mom: Goodmorning honey! Here's your breakfast and eat it quitly, you don't want to be late.
Tsniku: Yeah, yeah whatever. Mom why did we have to move away from dad?
Mom: that's nothing of your concern. Just know that we won't be seeing him anytime soon.
Tsniku: WHAT!?!?!? YOUR F***ING KIDDING ME RIGHT?!?!?!!? ALL IO WANT IN LIFE IS TO LIVE WITH DAD AND NEVER SEE YOU AGIAN!!!!!!!!!!!
Mom: Don't you dare speak that to me EVER AGIAN!
Tsniku: I'm leaving. Bye mom....
I wish mom would just let me be i'm sick and tired of her keeping me away from my dad all because he said she was rude sometimes. Ugh why does she have to so...so I don't know...... rude ugh. Lets just get this day over with. Maybe I can make a new friend, or not.