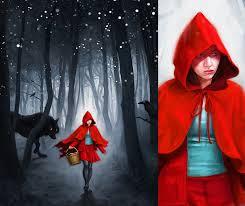 How It Begins
"Rosa! You better be up! I made breakfast!"
Every morning, that is how I woke up, to my mom yelling at me through the floor. She knows I would sleep till noon if I could, and she also knows, I hate mornings.
This morning was almost no different. I got up as usual and slowly got ready for the day, and as I went downstairs I felt something was different. Mom smiling with breakfast at the table, check. Mom looking like she loved the world, not check. She had this look in her eyes of pain, and I was about to find out why.
"Rosa, Grandmother is very ill. I'm afraid she might not make it," she looked at me with a tear streaming down her cheek. She then looked back down at the table to a few containers. "So I made some soup and bread and some butter for you to take to her. I have to work today so I'm counting on you to get this to her. Okay?"
"Okay Mother," I walked over and gave her a hug. She only cried for a little while, knowing that she had to be at work soon.
"Goodbye Mother, and don't worry, I've got it covered!" I said as she closed our fence gate behind her with a big, CLANG!!!
I went back inside to gather the containers.
"Now where's that basket?"
I looked around the kitchen and found it on the windowsill. I grabbed it, put the containers in, and went to get ready to leave.
On my way out, I grabbed my red riding hood my grandmother gave to me on my 16th birthday. I put it on and was on my way into town when I heard rustling in the bushes behind me, I turned around slowly and saw what looked like a pair of eyes watching me. But they immediately disappeared.
"I better remember my training." I said to myself.