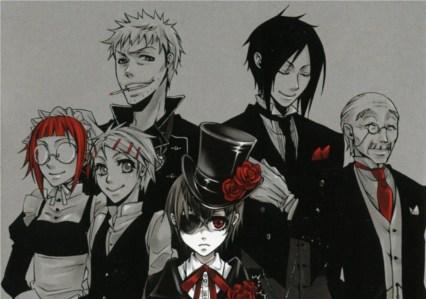 Meeting the sutcliff's
It was a dark raining night in England. The rain drops hit hard on the Phantomhive windows. Two outlines where seen in front of the manor. One was in the other ones arms. The tallest one ringed the door bell. A tall man with Black hair and bright red eyes opened the door. He had a questioned look after seeing them be put on a smile anyway.
"Welcome to the phantomhive Manor. How may i help you?"
He asked nicely with a smile.
"Are you the one they call Sebastian Michaelis, the butler of ciel phantomhive?"
The tall one asked, Shifting the weight of the smaller one to his other arm.
"Why yes, yes i am. Come, come you two must be cold in this wet rain."
He said as he took their bags in.
As they come in ciel walks down the stairs in his cream nightgown with his eyepath on the left eye. As he walks the smaller one jumps off the taller one, shaking the water out their hair. Some of the water got on ciel's clothes, making him mad.
"WHAT THE DEVIL DO YOU THINK YOUR DOING?! YOU DOG!" he yelled stomping up to them.
"No. I'm a cat. Meow." they do cat paws and a cute cat face. As soon as they did that Sebastian picked them up by the arm pits.
"Really? You don't look like one." he said looking them over.
"HEY! DON'T TOUCH HER!" grell said taking her back and growled at him.
"I am truly sorry. I don't know what came over me." he said bowing his top half.
"We well talk about this in the morning. Sebastian, take those two men to their room." ciel said walking to his room.
"Yes my lord. Follow me please." He said walking them to their room.
After he left, the siblings talkes for a bit.
"Do you think they know I'm a girl grell?" asked the girl.
"No. I think not love. But that 'Sebastian' guy is creepy. Picking up my dear bronwyn and looking her over. Thats just plain rude." grell said hugging bronwyn.
"Oh well. Their just find out when we are to the circus. Goodnight brother." she said hugging him back. Then climbing into bed.
"Goodnight." grell did the same.
But what they didn't know is that Sebastian was on the other said of the door listening.
"So their names are grell and bronwyn and bronwyn's a girl? I better tell lord." Sebastian said walking back to ciel's room. As he came to the door he knocked quietly.
"Come in." ciel said and sat up. "So did you learn anything about them?"
He asked.
"Yes. They're names are bronwyn and grell. That is all i know lord." he said keeping the part of bronwyn being a girl a secret. Wanting to surprise ciel.
"Good. I will see them tomorrow morning at 8:30." he said go back to sleep. "Goodnight Sebastian."
"Goodnight lord"
How was it? Please tell me.
BYE SEE YA LATER!