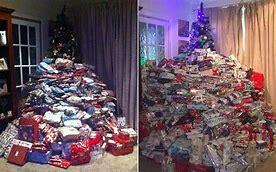 My Birthday Present
Right, I don't know how to express this. I'M SO HAPPY! Today's my birthday, and I get to have a big pile of presents as high and wide as a big Christmas Tree! Yes, my birthday is during Christmas. Anyway, gotta go and greet my guests! Not in my nightgown.
Omg, my best friends, Jamie, Audrey, Isabelle, and Winnifred already arrived. They each had two presents in their hands and were starting to add their presents to the pile. I don't understand why, but Isabelle had a SUPER big one and a SUPER small one. What the? Anyways, I made my footsteps very loud to notify them that I was coming downstairs.
Apparently, they were surprised.
"ISIS! ICY! ISIS!" They squealed in unison like Pygmy Puffs (Arnold the Pygmy Puff, lol) and embraced me like bears ready to tear my flesh into shreds at the sight of "human beans".
"We were waiting for you a long time. We didn't dare go up, especially after that sleepover..." Jamie's voice trailed away.
Last Sunday, we had a sleepover at Winnifred's and we slept in the fancy yard outside. Since Mrs. Chang guaranteed that there weren't worms, we settled down. I guess I overslept, because very soon (I didn't know because I was still asleep, they told me that), the four girls tapped me on the back. I punched them without realizing what I was doing, because I was dreaming that I was boxing, and Audrey had a terrible nosebleed.
I spotted Mom talking with Audrey's mom, and Dad was playing cards with Mr. Red, Jamie's dad, and Mr. Lane, Winnifred's dad. They were the only three Dads here, so I guess they were pretty bored.
But then, all of a sudden, Isabelle's small package trembled. "What's that?" I asked, alarmed.
Isabelle crept close and whispered, "The lost ring of Rylie Reynolds."