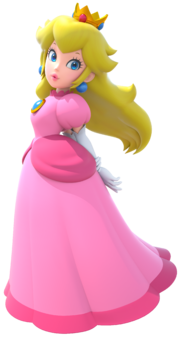 Princess Peach
Princess Peach is the princess of the Mushroom Kingdom. Princess Peach first appeared in Super Mario Bros. and was created by Shigeru Miyamoto to be the damsel-in-distress throughout most Mario games.
Height: 186 cm (6'1")
Weight: None of your business
Princess Peach is classy, kind, clever, sociable and adventurous. She is pure of heart and often acts unselfishly, putting her friends, loved ones and citizens ahead of herself, and apologizes excessively for getting into trouble and requiring Mario to rescue her. She even shows concern and compassion towards her enemies, such as saving Mimi in Super Paper Mario, despite the girl's constant antagonism of the princess. She often acts as a peacemaker, such as in Super Smash Bros. Brawl's story mode, where she offers tea to Fox and Sheik in order to calm them down, and later converts Mr. Game & Watch to their cause. While gentle by nature, Peach is also strong-willed and can hold her own in sports competitions and battle, provided she is not already being held captive. But while Peach is often considered the archetypal damsel in distress when it comes to video games, she is often showed to be actively working against her captors, such as sneaking around searching for power-ups and/or information to send to Mario in games such as Super Mario Galaxy and the Paper Mario series
Peach in an advertisement for Super Princess Peach.
While she occasionally seems naive, she is generally level-headed and expresses more common sense than those around her, such as noticing a doppelganger in the Isle Delfino vacation guide video's background in Super Mario Sunshine, insisting that an emergency meeting continues even after it is briefly interrupted by Bowser in Mario & Luigi: Bowser's Inside Story, and talking a stubborn Bowser into joining her and Mario in Super Paper Mario. In the Super Mario World cartoon, she is a motherly figure to the young Yoshi and Oogtar, and in the cartoons overall, she is practical and generous to a fault, such as trying to convince the Mario Bros. to return home despite the fact that she is still under the threat of Koopa. She also has a feisty side, which shines through particularly well in her comic appearances. Besides sports, Peach is also into ballroom dancing, video games and gardening, and seems to enjoy exploring and trying new things. Like other Mario characters, Peach can Jump, Ground Pound, and use slap attacks, which is her specialty. While not very strong physically, she makes up for it in technique and skill, and many games reveal her to be fast and agile as well. She is also shown to be very graceful, often embellishing attacks and victory scenes alike with elegant movements, twirls and dances. With the release of Super Mario 3D World, Peach is able to use power-ups, such as the Fire Flower, the Tanooki Suit, the Cat Suit and the Double Cherry, among other power-ups and items. She also has the unique ability to float in mid-air, first seen in Super Mario Bros. 2, and can also use her her parasol to achieve this effect or slow her falls.
In Super Mario RPG: Legend of the Seven Stars Peach is shown to have impressive healing abilities like Therapy and Group Hug, and this ability is seen again in Paper Mario: The Thousand-Year Door when she ovrcomes the Shadow Queen's mind control over her to heal Mario and his party. She has occasionally been shown to have telepathic powers, like in Super Mario Advance 4: Super Mario Bros. 3 when she calls out to Mario as a hologram in Dark Land, or when she and Starlow combine powers to drain and then send Bowser flying in the beginning if Mario & Luigi: Bowser's Inside Story. Additionally, in Super Smash Bros. Brawl, her final smash, Peach Blossom puts her opponents to sleep. In Super Smash Bros. Melee, Peach has a powerful special attack called the Peach Bomber, where hip-checking her opponents engulfs them in an explosion. Earlier, Super Mario RPG also linked her with explosions, as one of her attacks, Psych Bomb, involved throwing a Bob-omb at her opponents, and a similar scene occurred in the Super Mario Adventures comic, when she used a barrage of Bob-ombs against the Koopalings.
In general, however, Peach's magic abilities and powers usually involve hearts, not bombs. They're mostly seen in the sports installments including, but not limited to, Mario Power Tennis (Sweet Kiss Return), Mario Hoops 3-on-3 (Heart Shot), Mario Golf: Toadstool Tour and Super Mario Strikers (heart trails follow the balls after special hits). Her special item in Mario Kart: Double Dash!! is also a heart, and allows her to co-opt others' attacks. Besides hearts alone, Peach will sometimes use the power of love to combat her opponents in sports, such as her Super Peach Spin offensive shot in Mario Power Tennis, or how her Heart Swing in Mario Super Sluggers dazes any male player who tries to catch it, while the other females are immune.