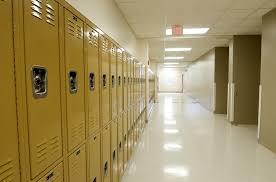 The School Halls
School was early today since we were going on a long trip. It started at 7:30 AM
I'm Jason the classic man. Oh yeah, my nickname is classic man. The trip ended at
2:25 PM and off the bell rang and before I went outside the door I asked my teacher
" Ma'am. When is our next trip" But she replied " Ask the principal, I'm having my coffee break"
I stepped outside while I saw a grin of my daily bully. He stepped like a lion up to my feet and picked me
up saying. " You should learn Classic Man to lose that stupid name of yours" His name is Alex Home.
He'd bully me everyday that goat head. anyways I pushed him onto the floor and walked to the next
pack of squares in the hall. suddenly I saw a jacket on the floor that said my name. The weird thing was..
Its Pink! What kind of classic man would wear pink! no wonder my dodgeball team has a pink mascot of a goose
Then suddenly I noticed it was the mascots jacket. Her name is Arabella Oswald.
I put it on top of her locker and ran down to the second door in the hall. BANG! coffee burnt my leg when some spilled out
the cup that broke last Monday. I have no idea why its still hot. its because one of my classes ( Science ) is doing a volcano
topic and is trying to do a project called ( Lava In The High School ) Which is real lava! that once burned my friend
Dan's hand. He went to the hospital for a week! now he has half a hand and 3 fingers on the other.
I changed my mind for the trip thing and ran to the front doors.