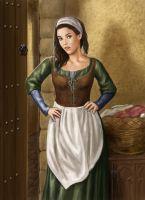 Lady Whatever...
I poured the steaming water into the tub and slid out of the room so I could remain unnoticed. All I really loved to do was create the masterpieces the Lady of the house loved to wear and I had one that was almost finished. When I reached my room I began to finish the last of the delicate stitches the would complete the ivy that detailed the dress. When I had finished a knock came at my door and to avoid the dress being seen yet so I hid it behind the door. When I opened it standing with her bucket was my best friend April. She nodded and I grabbed the dress so the Lady could try it on. When we arrived at her room I let April knock and stayed as quiet as possible.
"Come in girls," she said and opened the door for us.
"THE DRESS IS GORGEOUS," she shrieked and grabbed me so she could hug me. I coughed quietly and she released me so she could have April help her put on the dress. The Lady was very young and was married to Lord Cleveland who certainly loved his woman but she survived. That is why I put so much effort into her gowns because if the Lord was a cruel man she deserved something nice.
"Liberty I know I often make you uncomfortable but I am so thankful you work in this house." she said through the door of her dressing room. When she c am out she looked amazing. Her dark hair looked amazing against the pale yellow with the green ivy details. Without speaking I undid her hair and pulled one of her hair pieces and styled it for her. She look so beautiful that it brought a smile to my face an that made her laugh.
"Milady you look beautiful," I said softly. She turned and hugged me again but this time I let her which brought and even bigger smile to her face.
"Thank you so much Liberty," she squealed but she let go because it was time for dinner.
"Liberty I would like to ask you to become one of my chamber ladies so that you can truly help me look this way all the time and get credit for it," she said to me with hope.
"Yes, Milady," I whispered and curtised just like my mother taught me. She was the last Lady of the houses Chamber Lady so she had to practice her curtsies often.
The young girl smile and left the room with a nice grin but I knew it wouldn't last. She was having difficulty conceiving and heir and the Lord was not hiding his anger about
it. So without another word I left her chambers and headed to the kitchens with April to get out dinner which was whatever was left of what they ate upstairs. Since we were so nice and quiet ladies we go first pick. It also helped that April was the cooks fiance and they were getting married soon. April had asked me to make her dress which was my personal project I worked on when I finished the Lady's dresses.