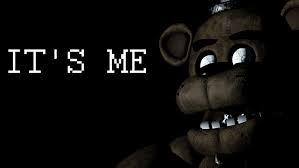 Welcome to Freddy's!
Oh the joy. I'm Andrew, I am an ex security guard at Freddy Fazbear's Pizzeria. Now then, I'll explain everything that happened. Day and Night. Dark and Bright. Firstly I'll describe what the animatronics were saying. "Hey kids! Hyuh-Hyuh! Welcome to Freddy's Place! I'm Freddy!" "I'm Bonnie! LETS ROCK!" "and I'm Chica! Lets eat!" So not much happened at day. Just some wacky goofy animatrons singing songs and playing around. But whilst looking around I saw a purple curtain with a sign saying "OUT OF ORDER". I assume its just something that was scrapped or broken. So when it got to 11 AM, the place closed as the manager told me to head to the office.
I was about to pick up the camera when the phone rung. "Hello? Uh.. Woah you've got guts to take this job.. I was a guard before you, and.. Frankly I'm glad I got it out of the way. Just check the cameras, for like, Freddy and Pals, and check the curtains of Pirate Cove.. Got it? Alright g'night!" I was confused.. He didn't tell me much but he seemed very cautious about the job, like the animatronics tried to kill him
or something.. I picked up the cameras and to my shock... BONNIE WAS STARING DIRECTLY AT THE CAMERA..
Not with those goofy little eyes he normally had but black.. white pupils, and a ghastly looking grin on his face. The camera suddenly went
all static as I checked outside the doors. I looked back at the camera and bonnie was standing in the back room. Barely visible but certainly there. It was 2AM. I heard some circus like music, I checked the stage and CHICA WAS GONE! I saw outside my door the rabbit was staring with some mucus dripping out its eyes and mouth.. I closed the metal door as I heard some robotic footsteps as I saw the rabbit moving past the window, I saw the chicken standing in the hallway with her mouth open, so far I could see the endoskeleton in the back of the suit.. Just speaking of it gives me the chills. We hit 6AM as the animatronics moved back to the stage,
Thank GOD I survived, but this isn't my only night..