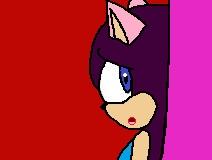 Hearing A Plan
Jackie
______
I can't sleep. My head's just not feeling right. So I sneak out of bed and wander through the hallways of the compound. When I look ahead, I see two shadows on the walls. Two other people are out of bed as well. Are they feeling bloated like me?
But then I hear voices. Voices coming from the direction of those shadows, so I follow the shadows to hear them better. The first voice I pick up is the voice of a teenage boy that sounds awfully familiar.
"Everything is set for tomorrow," I hear him say. "Tomorrow we'll know for sure."
"Very good, Matt," the other voice says.
Matt?
My entire body fills with heartbreak and betrayal. One of my best friends... and he's betrayed me.
I then hear the other voice talking to Matt again. It sounds like an older woman. "Any news on the target either?"
"Which target?" Matt asks.
"The pink hedgehog with the dark purple hair."
They mean me.
"I suspect she's one of them," Matt says. "But only tomorrow can confirm it."
"Then I will need for you to sneak onto the computer tomorrow and check her results. I need to know how it is logged, and what her result was."
"You have my word, Cerise," Matt replies.
Cerise? As in, Cerise Wilkinson?
Oh no...
"And her friends as well, Matt?"
"I will check their results too."
I know they mean Camille, Andy, and Sonic.
I have to warn them!
They're in danger!
+++
I quietly sneak back into my room, but my mind is still thinking about that conversation.
Now I know that Matt is a traitor, wanting back in the good books of his old superior.
But who is Cerise? Is she working for anyone? Is she Matt's superior?
Nothing makes sense to me right now.
And my head is only feeling more and more bloated thinking about it.
I try to sleep, but I can't retire. Not even counting sheep will help.
I look up at the ceiling, and a grey fan stares back at me as it whirls around.
"What are they up to?" I mutter to myself.
But to my surprise, another voice replies, "None of your business."
I gasp and look up at the door to my room, and see a shadow approaching.
What's going on?