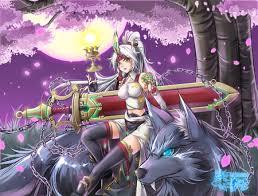 The Moon godless find the saver
Moon Goddess pov
As I look for someone to stop the devil that is growing strong by the day then I found the right person. She was walking back home. Her name is Summer so I what for night to tell her when she was a sleeping. Not far one of the evil spirit hichemane was after her I used my prowler to slow him down to stop following her home. Few hour had past night came and I went in her mind to tell her she the saver of her world and she would be given a suppliers from me to help her on way.But she did not believe what I said you will see thing that my not be nomer in time. As I left her mind I summoned a wolf and her gear in her room. Befor I leave her wolf hand a collar and a tag on it name Dark that I add and paperwork that tell she can have him in anyplace. I mess with her family mind to think they got the wolf to guard her and the paperwork was done by them.
Summers pov
I walk home from school that was boring and all the other thing then I look behind me I saw a man who following me I turn my head back and walk faster. I feat a something go past and I made a run for my home. Few hour had past at home I was got ready for bed my phone ring it was Kimme. I look at the time 8:55 p.m so I answer it and said hi to Kimme she said hi back we tokle for a way I look at the time 9:00 p.m. I said goodbye to Kimmer and went to bed then I saw a woman in my dream I said hi to her she say hi back and told me her name was the Moon godless. As I listen to what she said to me that I was the saver of my world.She give me three thing I ask for assassin knife and a sword the last thing was up to her then she left and showed them to me. I warkup from my slumber and see my thing that I ask from my dream and I fall back to sleep and told myself that is not there and I would warkup soon. Then I heard a voice in my mind warkup I look around and see a wolf looking at me and I ask it did you just speak to me and the wolf said yes in my mind. I look at it schock what it said to me.
Dark pov
I warkup befor my master was up she look at her thing and went back to bed I told her to workup. She look around and look at me and ask me if I just speak and said yes her fache said it all. I move to her tabler that had the paperwork for me then she ask me what was my name was I told her Dark as i give the paperwork to her. She say what this I told her to open it. I hear her dad call for her she got up and walk to the door as i stay close to her. Her dad said good morning to her and hey boy to me summer ask about the paperwork and her dad said "I'm your guard'' and she said ok like that was not ok with it. She look at the time and said " I'm going to be late for school" her dad said that he move her to a new school that will be better for her soon .
Summer pov
As I watch the wolf go to my tablet that had some paperwork as he give it to me I ask it name. He said Dark then I heard my dad call me down to eat I walk to the door and Dark follow me. My dad say goodmorning to me and Dark. I ask about the paperwork my dad told me the Dark is my guard and need to be near me at all time in my mind like really that he need to be at my side at all time. I look at the time I'm late for school then my dad told me he will move me to a better school soon. Few hour later I run through the door of the school to my first prd and Dark by my side as I got to first prd my teacher ask me to come out side of the class and ask about Dark. I give her the paperwork she nod her head and let me in the class as I walk to my desk one of the student through a ball at my fast I look a way but I felt nothing then i look Dark had the in his mother and drop it on the ground. The rest of the day went ok.
Dark pov
As we got to school she sing in and went to class I was at her side nonetheless as we got to her class her teacher ask her to out side of the class I saw her hand the paperwork to her. As she entry in the class a student through a ball at her I caught the ball she look at me as the day went by like nothing has happened.
Summers pov
As me and Dark had home I think that I should take Dark to the wood for a lit bit. So I call my dad to let him know that I'm going to the wood. As we enter the wood Dark was happy and he ask if will you like to play a game with him "sure" I said. I ask what game he said tag and he gave me a min head stare as run and hide in the wood I can hear him not far from me then head nothing out of know way Dark said "tag you're it" and I felt his nose at my leg and he was gone. I spot him not far from way I hide but as I got close to him. He wasn't Dark more wolf come from behind me. Dark jumps down from a tree in front of me as I look at him he look bigger than befor.
Dark pov
Summer and I are walking home she look at me then call her dad for something and hung up and we head to the wood and I was happer and I ask her if she like to play a game with me she said " sure what game" I said " tag" I gave her a min head stare. She was a good at hide but I found her I made it look like I walk by her but I came up behind her and said "tag you're it" as I tap her leg and teleport to a tree from her hiding spot. As i her watch I smell the air there is a wolf not far from her she walk to it slow but more wolf came behind her I jump out the tree in front of her to protect her from the wolf. She look at me that I got bigger in her eyes.