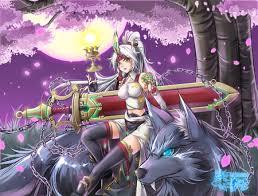 The Moon godless find the saver
Moon Goddess pov
As I look for someone to stop the devil that is growing stronger by, I find the right person I'm looking for. The girl was named Summer. She walked along home after her long day of school. Not far off, one of the evil spirit henchmen was after her. I used my power to slow him down, preventing him from following her home. A few hours had past and night soon approached. I entered her mind to tell her the destiny she held: the destined savior of her world. I gift Summer the supplies needed to aid in her journey. Unfortunately she didn't believe what was told. Ignoring her stubbornness, I leave her a wolf familiar as her guide, placing a collar with the name "Dark" on the wolf. Working my way around, I place the memory of getting the wolf with the memory of buying a dog to the rest of her family. "My work here is done, now I just wait."
Summer's pov
I walk home from school grumbling, "Ugh, school is so boring!" I soon got a feeling of being watched but every time I turned around to look, nothing was there. "I'm just tired" I shrugged and continue on my way. Few hours had past when my phone started to ring. It was Kimme calling. I roll over to look at the time. 8:55 p.m. "Meh, It wouldn't hurt to answer." I answered my phone and said hi to Kimme. After a while a check the time again. 9:00 p.m. I said goodnight to Kimme and went to bed. As I drifted into sleep, I dreamed of a woman floating before me in a luminous flowing dress. "Hello? Who are you?" I asked. She smiled at me "Dear child, I am the Moon godless, and I come to tell you your destiny." I sat there bewildered, "Destiny? What destiny?" She spoke of a human who would rise above all and save the world. Waking up from my slumber I see the items the goddess gave me in the dream "woah". Sitting up to get a better look, I see a wolf next to my bed look up at me "WHAT IN THE NAME OF JESUS!?"
Dark's pov
I gaze up at my mistress when she suddenly screamed. I jumped, startled by the sudden yelling, and looked at her. "Mistress, is there something wrong?" Once I asked if she was okay, her eyes widened, "YOU CAN TALK?!" I nodded. "Well of course I can mistress, I am your familiar." She sat there quietly for a minute, her blue/green eyes wide with surprise and confusion. I motion towards the papers on the nightstand, "Read these, it will explain why I'm here mistress." She calmed down a bit and looked at the papers.
Summer's pov
I look through the papers as the talking wolf watches me. I notice the name 'Dark', "So, is that like, your name or something?" He nodded. I let out a sigh, this was going to be one hell of an adventure. I got out of bed and retrieved clothes to wear. About to change, I stop half way taking of my night shirt and blush a deep red. "Would you, I don't know, mind GETTING OUT!?" I screamed at Dark. I notice him give a slight smirk as he nodded and left and gave me some privacy. I mumbled under my breath, "Perverted dog…" Once dressed, I noticed something strange about myself. I looked at myself in the mirror and let out a startled yowl, "WHAAAAAAAAT?!"
Dark's pov
I reentered the room to see what the problem was, "Mistress, is everything alright?" As she opened the door, I already had a feeling of what the problem was. She glared at me with a bushed up cat tail and laid back cat ears, both the same color as her dirty blonde hair.
Summer's pov
I hissed at the wolf, "WHY AM I A FLIPPING CAT!?" I felt my tail bushing up. Turing around constantly to keep the fur down, I continued hissing "What did you do to me?! THIS IS YOUR FAULT ISN'T IT!" Finally I sat down but arched my back like a cat when Dark tried to approach me. "Talk first, then everything else"
Dark's pov
She hissed at me and yelled "WHY AM I A FLIPPING CAT!? THIS IS YOUR FAULT ISN'T IT!" She sat down, but as I tried to approach her, she arched her back like a cat and said "Talk first, then everything else." I sighed "The Moon goddess chose you to save your world from the Devil, she explained everything to you in your dream." I stretched, and added "But the cat thing was not me at all."