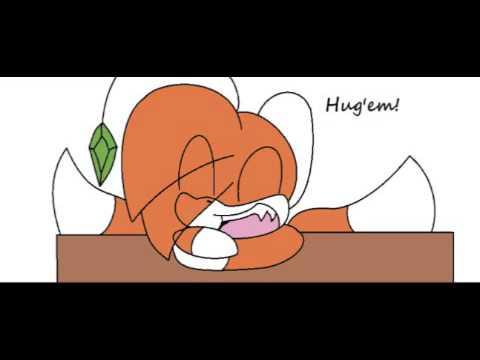 Maryan meets tails doll.
Maryan was about 2 years old when she found about tails doll
She got captured by Eggman and she was in a cage.
She had no hope and screamed like hell so someone can hear her.
No one was there to help her but herslef.
"Someone help me!!!!!!!". No one helped her. She had no friends or her mom to save her...
Maryan got knocked out Minutes later.
.. Maryan woke up and saw that she was on a bed. She saw a doll being made by Eggman and she screamed.
" ahhhhhhhhhhhhhhh!"
Maryan saw nasty things, like blood and guts everywhere .... Ewww
Then the doll woke up!
Maryan looked at the mysteries thing of her life and had no idea what to do.
Her choices were, to kill it, and to run as fast as she can. Of course she picked run as fast as she can. Maryan ran and ran and saw the doll following her
"Go away" she said screaming!
"Can you feel the sunshine?" The doll said.
"Ahhhhhhhhhhhhhhhh go away ...
The dolls dimond turns blue and floats away.
Maryan had no idea what just happened and trys to go back to bed with her cookies.
She had nightmares about the doll she had meet and she knows that she will never love him...
She woke up from her slumber and had no idea what to do and trying to escape from here.
But no luck at all.
She was trapped here and then the doll woke up and saw her.
" oh no not you again...." Maryan said ..
The doll huged her and said .
"I love you maryan."
Maryan now got scared...