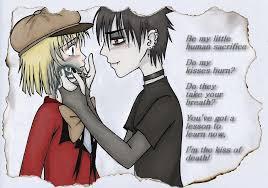 the story
4/20
hai guyz! damein aksed me out to go to the canadian movie thing o.o i said yes obvi he my bf!!! it would be my firat movie with swearz tho ;p im gonna have da songs stuck in my head allll day!! welll anyways guys i gotta get dressed for my date!!!!!!!!!!!!
4/21
the mobvie was soooooo good! uncle fuka XD i got reaaaal close to kissin damen but i didt o.o i just ate my popcon. it waz tasty tho!! lunchie munchies mm XD well I'm gonna make crumpets now ttyl!
4/22
school happned again today o.o cartman called my french. I'M NOT FRENCH!!!! IM BRIDDISH LONDONSIH!! dont worry damen called him a fattassss and sent him tw0 hell XD i love damien even though he keepes syaing he wants my meat 0.0 idk wat dat mean. i hope i can provide for my emo goth bf!!!1!!
4/23
damein dressed up as n e-boy lol XD i love him so much :DDDDD mayhbe this weekend we can walk thru hell together,,,, idk a boy can dream 3: i made a special tea for him XD it;s called hell fire because my satan bf is from hell X) i met his dad he's super evel but he likes me!!!!! yayyyyyy!!!!!!!!!!
4/24
it's hump dae!!!! that means there was a huge orgy is da halls today o.o damein and i didnt do it tho :))) we want our first time t2 be speciL. i have to prpar fo his magnum dong :)))))))
4/25
cartmans was back at skool again :( he slammed down my lunchie munchies and now im crying in da baffrom. damein is cursing him rn tho so yayyy!!!! i love damein owo he's so good 2 me X3
4/26
TOMORROW ME AND DAMEIN GO TO HELL AGAIN!!!!!! I'M SO EXCITE !!!!! I love walking through da eternal flames wiff him x3 uit makes me feel suuuu happy!! also cartman was turned inside out when i was at scool so thats so epic!!!!!!
4/27
i'M BACK FROM MAH DATE!!!! it was so amazin!! we walked thru hell and damen kissed me!!! i was blushing suuuu hard. then we dropped down and started sexing o.o he said i wasnt bad for maH FIRST time!!!!!! i loveee damien im so glad i pleased him :))) also his magnum dong wass so large omg. well bye guys!!!!!