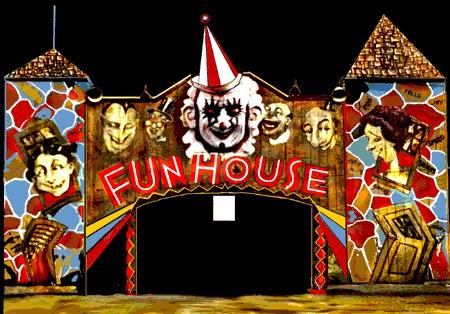 Part one: Fun House; Chapter one: Hall of Mirrors
Here I stand, looking at the reflection of a girl I once knew. A girl known for her beauty. A girl that had stunning green eyes, and long, dark hair that was almost black. She was kind and sweet. She'd had a wonderful life. A life of luxury and love. God, she was beautiful. All her worries were somewhere along the lines of if her hair or makeup looked okay or maybe if her mom were to find out about her sneaking out to go to a party with her friends. Or if her mom would let her go on a date with her, oh, so hot and popular boyfriend. She was fascinated by pastel colors and love songs. Songs and colors that didn't have a meaning, but sounded and looked pretty. Her sadness was founded by the deaths of her cute little dog or by a little disagreement she may have come to with her boyfriend or one of her friends. And to her, a bad day was when she broke a nail or had her monthly cramps.
But, you see, the keywords here leave her in the past.
I no longer know the girl in the mirror. That's not her life anymore. That's not how she is anymore. She no longer worries about if her hair or her makeup looks okay. She no longer thinks of rainbows and adorable little puppies, or unicorns that dance around on clouds. There is no longer a light that shines behind her eyes. She no longer believes she is beautiful or that she is good enough. She had been told that she wasn't, and she listened. She believed.
The words that are spoken to Jane drive me deeper into the ground, closer to insanity. Closer to my wooden bed six feet underground. Closer to death. And I'm already half way there.
I cut Jane's beautiful hair. Piece by piece. Strand by strand. Not any two are the same length. It's all a short, choppy mess now. And I guess it resembles us. Her hair seems to be darker now, but then again it could just be the lighting. It's dark in the hall of mirrors I have taken her to.
She looks around and I can see her reflection staring back at her. A reflection that goes on forever; never ending in the countless mirrors surrounding her. She can't seem to look away from the dark insanity that I have created in her.
I'm a monster. Like the monster that lives under your bed. Always taunting her. Daring her to look under the bed at me. Daring her to not scream. Daring her to not be afraid. Only, instead of living under her bed, I live in her head. And instead of looking under the bed to see me, all she has to do is look in the mirror. And there I am, staring right back at her.
I am a part of her, writing the diary she can never seem to rid herself of. Can never free herself from. I am her dark pit of black and sticky, hot tar. And no matter how hard she tries, she can never seem to get out. To get away from me and the diary.
That's all she's ever wanted. To get away from me. To crawl out of the dead skin surrounding her body; my cold blood coursing through.
The silence here is deafening, and I'm sure Jane is glad. I decided to give her a break from my taunting, leaving her in silence to think for herself for once.
She stares into the mirror, thinking of what lies beneath the long sleeves of her shirt and the material of her jeans. She's so ashamed of what I've done. I've only given her the scars she has to help her. I know how good it feels to her, how much she loves it as I give her those scars. I know how much it eases the pain, the anger.
Jane's heart races and she jumps, hyperactive from the adrenaline of being scared, as hands touch her from behind. The boy chucks softly and a familiar voice teases, "Did I scare you?"
She turns, lightly punching Benjamin in the arm, giving him a glare. "Yes."
He grins. "Lighten up a little, Princess."
"I thought I told you not to call me that."
"Well excuse me, Princess." Jane rolls her eyes, making Benjamin laugh. "So, what are you doing here? I thought you didn't socialize."
"That's none of your business and I don't."
"You're talking to me."
"Well, yeah, but talking to you isn't socializing. It's more like getting to know a talking dog."
He scowls at her playfully, making a puppy face at the same time. "That wasn't very nice." Jane laughs and he smiles.
"So, did you want something?"
"No, I just wanted to say hi. Is there a law against that?"
Jane replies, "I guess not. It's just that you hardly ever say anything to me, much less even notice me," surprising Benjamin.
"Oh, is that what you think?"
"It's the truth," she says bitterly
Changing his tone to match hers, Benjamin says, "So, I don't notice that you skip school every third Friday and never miss a day in between, and how you're always the first person off the bus, or how you wear long sleeves almost everyday to hide the scars on your wrists?" He was quiet for a moment, letting the surprise to her soak in. "Yeah, you're right, never noticed.
The cat catches Jane's tongue and she no longer knows what to say. They stand in silence, Jane looking at the floor, her face flushed, and Benjamin looking at her as if waiting for an answer, though I think he's just enjoying her reaction. He looks around then gently takes her hand, making her flush even more. "Let's go somewhere else." He starts walking and Jane follows him as he leads her through the maze and out of the hall of mirrors.