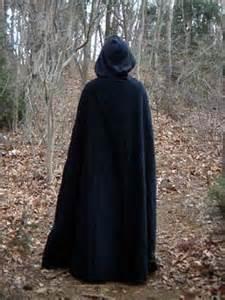 Unsuspected Encounter
Rain showered down around me as I walked, its cool touch seeping through my cloak and chilling my skin. I started to walk faster, silently cursing the downpour as I looked for the next place I would reside for the night. I started shivering, unable to help myself as I walked down the stone path, all being quiet except for the patter of rain. I sighed softly, feeling rejected from the world, having no home, no food, no money, and no one to turn to.
I turned off the cobblestone road and into the thick forest, brushing past the branches as I lowered my head to look at the moss covered ground, my footsteps nearly silent thanks to it. When I looked up I saw a small brook that laid in my path and I saw no path around it. I started to turn back to get back onto the road, but found that my path was blocked by the broad chest of a man. I glanced up, fear glowing in my gaze as I stared up into the dark hooded face of a stranger. There was a split moment where it seemed like nothing was of any relevance to the world around me. Like it was just the two of us as I stared into the pale green eyes that showed in the darkness of his hood but his enchanting eyes were the only thing visible.
The moment was over just as fast as it started and I felt myself spun around, my arms held behind my back and a dagger to my neck. I realized now that in that moment the man must have devised some sort of plan, made a decision about what he was going to do with me. He whispered something in my ear but the words sounded foreign and I could barely hear them over the hiss of the rain. Next think I knew my hood was yanked down and I felt the rain cold on my bare skin, causing me to gasp from the shock of the freezing downpour. In a flash I felt my hands bound behind my back and something tied around my eyes, obscuring my sight.
I didn't know what to do at this point, I wanted to struggle to get away but the dagger was still pressed against the skin of my neck. I opened my mouth to talk but the man quickly covered my mouth again and whispered in my ear, this time without the foreign tongue.
"Be silent and no harm will come to you." He murmured softly with a voice like silk, deep and smooth. I couldn't understand why, but even though his words were threatening, the sound of his whisper in my ear calmed be. I nodded, not moving my lips to speak and next thing I knew, I was lifted up and carried through the forest. I felt him lift me up a little higher and I felt him sit me on what felt like a saddle and I heard the deep breathing of a large animal. I felt the heat of the animals sides against my calves and I could only assume the animal I was mounted on was a horse. I felt the weight of the saddle shift as the stranger crawled up onto it behind me, sitting uncomfortably close as he wrapped his arms around me to grab the reins. I felt the man pause for a moment as I shivered both from fear and the cold.
Next I felt the cold, thin fingers of the man run across my cheek as he adjusted my blindfold gently. He touched my wet skin and must have felt pity for me because the next moment I felt him tugging at his own clothes and then something warm and soft was wrapped around my face and neck delicately before my hood was drew up once more, giving me shelter from the storm. He then wrapped his arms around me again, providing me more warmth and I then stopped shivering even though my heart was still beating rapidly with fright. I wanted to question him, to ask him what he wanted with me. I opened my mouth beneath the warm cloth but closed it again as I remembered his words. They now echoed in my head, threatening me. "Be silent and no harm will come to you." His voice whispered in my mind quietly but still put a feeling of fear and fright of danger in my heart. His voice once more in my ear snapped my back to reality.
"Be still, I will hold you as we ride." *He stated with an emotionless tone before giving a "yip yip" and the horse bolted forward suddenly, causing to fall back against the stranger's chest but he held firm, obviously used to riding his horse this way. I clenched my eyes shut as I endured the bumpy ride as I leaned against the man, waiting to see where he was taking my. It wasn't long before the running of the horse and the beat of its hooves and it lulled me to sleep and all went black, my slumber being light and dreamless.