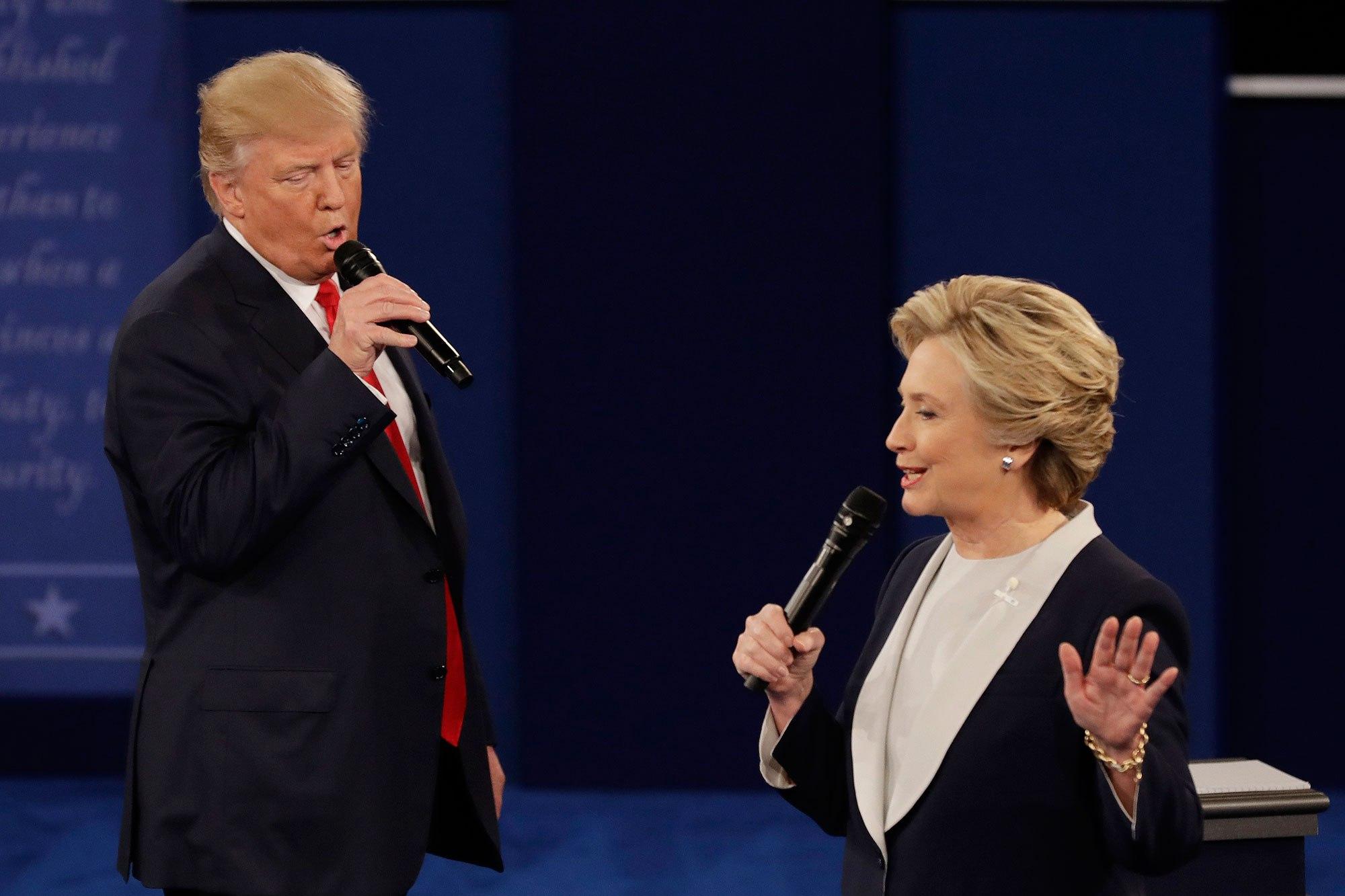 FIGHT!
Trump and Clinton head to the debate stage ready to discuss the issues facing America today.
Clinton: A man like Mr. Trump can't be trusted with the nuclear codes. He is unfit to lead a nation like ours.
Trump: Hillary is absolutely wrong. I have great temperament, I get along with everyone!
Clinton throws her mic at Trump. Prompting him to attack back after his hair got messy.
Clinton: See?
Trump throws his mic at Clinton. Clinton dodges.
Clinton: I've had past experience dodging these attacks! Verbally and psychically! *Laughs hysterically*
Trump jumps up and grabs Clinton, throwing her upwards. Trump then pounds the ground making a wall rise upwards hitting Clinton. Clinton summons a ton of her classified emails and sends them towards Trump. Trump, attempting to climb his wall gets hit with a pile of the emails and falls to the ground. He summons his helicopter an grabs 10 feet of brick to squish Clinton with.
Trump: This fight has gone 10 feet higher!
Trump drops the brick, but Clinton made a bridge right above her to protect herself.
Clinton: We must build bridges not walls!
Trump grabs Clinton (By the p**sy) and throws her into Trump Tower. Trump throws a few fire balls at Clinton and yells...
Trump: You're fired!
Clinton uses her delete attack to delete these. Mike Pence and Tim Kaine were summoned. Mike Pence punches Tim Kaine. Tim Kaine punches back with subject change. Clinton uses "FACT CHECKER" to delete Mike Pence's lies. Trump uses wrong to annoy Tim Kaine and then throws Tim Kaine in to the ceiling of his tower.
Trump: Your grapefruits are no match for my Trump Towers!!!
Clinton: Don't let anyone tell you that our country is weak!!!
Trump gets fiery and Clinton summons wings as the lead feminist in the movement for women as our future. Will it happen? Clinton attacks Trump and Trump attacks Clinton...
Trump: I don't know Putin!
Clinton: Trump is Putin's puppet!
Trump: You're FIRED!
Trump charges a huge fire ball and Clinton charges her establishment beam.
BBBBBBBBBBBBBBBBBBBBBBBBBBBBBBBBBBBBBBBBBAAAAAAAAAAAAAAAAAAAAAAAAAAAAAAAAAAAAAAAAAAMMMMMMMMMMMMMMMMMMMMMMMMMMMMMMMMMMMM!
Both candidates are on the ground.
Trump gets up.
Trump: Anything I touch turns into gold.
Trump grabs a pair of "HUGE!" golden scissors and cuts Clinton's hair. He then tackles her to the ground. Clinton coughs and starts shaking repeatedly. Trump ends her by touching her turning her to gold.
K.O.!
Trump: Hmm, 80 million dollar net worth! Meh, not worth much at all.
*Throws Clinton in the trash*