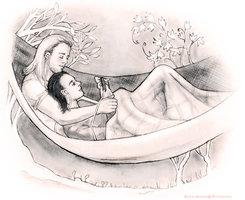 Nighmare
His hands were sweaty, chest burning, he shot up like a bolt panicing. Thor sat up at looked at loki "Are you ok?"
Loki toke a deep breathe and closed his eyes tight trying to get the image out of his head. "Loki?" thor qeustioned again.
"No im fine" loki muttered turning to the side of the bed getting out from under the blankets. "No your not loki what's wrong" thor growled as he lyed right by Loki's lap. "I just.." loki stopped "i dont know it felt like a blade in my chest i couldn't breathe."
Thor let his gaze fall to the floor as he got up and kneeled infront of Loki, putting his hand on his legs to gain his footing.
"It was only a dream, your fine i promise" thor said calmly. Loki slowy smiled still unsure but he trusted thor "well its 1am do you think you can go back to sleep?' thor asked. Loki stopped for a second then slowly nodded (no). Thor stopped smiling as he help loki up and brought him outside to cool in off.