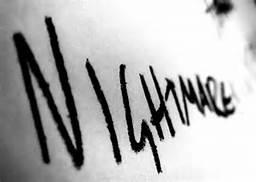 the dream * Minna *
"Thanks for listening." I spoke to another dead victim. I wrote those famous words of mine on the wall then left. I walked to my home sweet home in the woods. It's not far from town but far enough to not be seen. My little home is a campfire, a couch and a blanket. that's it. After a little bit of warming up by my fire I grabbed my blanket and fell asleep on the couch.
I was in a blue and black room getting ready for something. It looks important. I left the room, and zoomed down a flight of stairs to a person sitting on a couch. It was a girl. She was blonde, wore a mask, and was cleaning a pair of rusted scissors. We spoke for a wile then a boy came in. The three of us chated, and laugh. Until the boy and I said our goodbyes to the girl. We walked, and walked until we came to a small waterfall. That's when the audio came in.
"Shadow this place is beautiful how'd you find it?" I asked in amazement.
"I don't know a dream. I guess." He shrugged. Now that I look at him he wore a grey hoodie, jeans, and had black hair with green eyes.
"Well this place is amaz-" I was cut off with a sharp pain in my back. I fell to the ground. The last thing I saw was Shadow's backstabbing smile.
"AAHHH!" My voice echoed in the forest as I felt the same pain shoot through my back. " Did he kill me?" I asked trying to catch my breath. Before I could even calm myself down I heard leaves rustling Followed by voices.
"COME ON IT CAME FROM OVER HERE!" Someone yelled as the rustling got louder. Shit.
"WAIT...GIZEM...SLOWDOWN!" A different voice yelled. I grabbed my sledge hammer, but as I did a pair of rusted scissors pinned my hoodie's sleeve to a tree. Causing me to drop it out of my reach.
"Shit." I whisper-yelled
"Looks like someone had a bad dream." Someone spoke in a tone you would use wile speaking to a five year old. I look to my left to see the girl I spoke with in my dream standing near my fireplace. I pulled the scissors out of my sleeve, dropped it, then got ready for a fight.