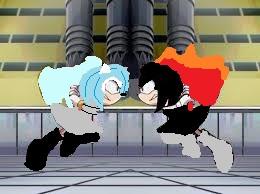 The Fight
I woke up and no one seemed to be awake so I went outside and took a stroll. I stopped when I heard someone cough. "Hello?" I called out. Three hedgehogs emerged from the bushes a white one, a clear one, and....... my sister! "MOM, DAD, TORI!" I said as I ran full speed at them. My mom held me in her arms and my sobbed. My dad and little sister joined in. "I missed you guys so much." I cried. "We looked everywhere for you Frost." My mom cried. I told my family all about my adventure that I have been on and the date I went on with Silver. "He sounds like a good person." My mom said. I nodded my head. "You guys need to meet my friends." I said. They agreed and I introduced my family to everyone. "Nice to meet you Frost's family." Amy said. For ounce I was happy everything was perfect, but something was strange in the air. I looked around everything was melting. "I'll be back." I said. I walked deep into the forest. "Daliah I know your here so stop hiding!"
"Aw how did you know?" She asked. I turned around only to see that disgusting villain. "Because there's suppose to be snow, but I bet your melting it." I responded. "Clever girl." She said. "Are you ready to finish this ounce and for all?" She asked. I nodded and shot an icicle at her. She jumped to the side and threw a fireball at me. I knew so much of my powers not that I froze it, no correction time I froze time. I stepped to the side just in time. "Stop freezing everything!" She demanded. "NEVER!" I yelled at her. "HEY USE A HAMMER!" Amy yelled at me I turned around and everyone was there. I took Amy's advice and created a ice hammer. "I can play that game too." Daliah said. She too created except it was made of fire. I ran at her with so much anger and like Eggdork said before there was a spark. She too ran at me and then......
"Frost......Frost.....Wake up Frost." I opened my eyes. I looked around. I was in my old bedroom when I was little. "What....What happened?" I asked. My little sister Tori hugged me so hard it hurt. "You won sissy, you won." She said while crying. I repeated the words in my head. I won. I cant believe it I won. I hugged her back and cried too. I no longer have to worry about anything anymore.