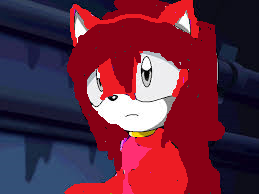 A Piece of My Memory
"Hey wake up are you ok?" I heard a voice. I opened my eyes to see four hedgehogs. One blue, one white, one red, and one black one with red streaks. "Who are you guys?" I asked.
"I'm Sonic and these are my friends Silver, Shadow, and Knuckles and you are?" The blue one asked. "Wire"
"Nice name." Sonic said. "By the way what were you doing with Eggman?" Sonic asked. "Well he kinda saved and then I figured out that he was evil so...yeah." I said. "This might be a weird question, but are you by your self?" Silver asked. "Yeah I guess I really just have no memory of my past." I responded. "Wow that's harsh." Sonic said while shaking his head. "Hey Silver why don't you take her into her past and show her, her past." Knuckles said excitedly. "You can do that?" I asked. "Yeah you want me to?" Silver asked. I really didn't need any time to think about it. I shook my head yes while a huge smile came apon my face. "OK then." Silver replied. Everything started to swirl around me and I was soon outside of a cabin. Out of curiosity I looked into the window. I saw a red hedgehog in a pink dress playing with someone who looked very familiar. I realized that that person was me. "I have a little sister." I thought to my self. "Tori let go" My younger self said to my little sister. Tori and my younger self were fighting over the same toy which looked like a doll. Once again everything started to swirl around me this time I was at a carnival. I saw my self hanging out with three girls a purple hedgehog that was wearing a blue tank-top that had a pink heart on it, blue jeans, and red and white shoes. A yellow echidna that was wearing a short white dress, a jean jacket, white boots, and a bow in her hair. Last there was a light blue two-tailed fox that was wearing a white tank-top, a white mini skirt, and white shoes. "Is that Sora, Socue, and Double?" I asked my self. I have no idea where I came up with those names, but I did. The world swirled around me ounce more. "I WILL KILL YOU WIRE KILL YOU. PREPARE FOR REVENGE!" I heard a angry voice yelling at me. I saw Sonic, Shadow, Knuckles, and Silver again. "How was it?" Silver asked me. I didn't know what to do, but cry out of fear.