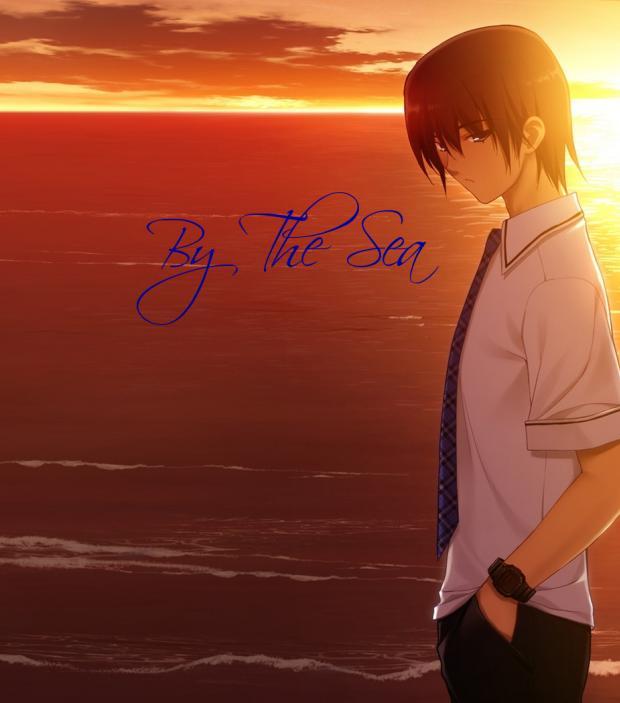 By the Sea
I hid myself well, behind the dumpster. Barely breathing yet intensely glaring. I settled on who would be my next target. I settled on a weak-looking guy with short orangeish hair, clad in old looking garments. He looked like a 1800's gentleman, now that I think of it. I gripped my knife tight in my unsteady hand. I pulled him into the ally with haste. He didn't resit, and no one even noticed he had gone.
He saw the knife in my hand. But he didn't fear, he didn't beg for mercy, he didn't scream. Instead he looked at me sorrowfully, as if he had been expecting better from me. It puzzled me, and it still does.
"gimme your money, ya bastard!" I demanded, but he just ruffled my filthy black hair and said
"What your name kid?"
"Don't have one." I glared to hide my loneliness.
"That so? Then 'bout I give you one?" I looked at him with distrust "Grey, like your eyes" He smiled at me. I Turned away from him and mumbled
"T-that's fine"
"Grey?" he asked "Would you like me to get you some lunch? We could eat on the beach ya' know."
"The beach" I was shocked at the notion, seeing the sea. Such things were beyond my reach, weren't they? Though I was reluctant to do so, I agreed.
He walked through the crowed streets, beyond my territorial boundaries and to a near by port I never knew existed.To my dismay we past it. But soon enough we came upon a long gorgeous shore line with not many people. We found a nice spot near the water and sat down to watch the waves. He reached into his bag and pulled out a simple roast beef sandwich with lettuce. He gave half to me. I Devoured in a hurry, good food didn't come in a dumpster, and wasn't going to waste it. He looked shocked at how fast I ate. Examining my surroundings, I saw a small cottage on a little cliff a ways away. I stared at it and it's majesty. He noticed my staring.
'Ah that's my house. Do you like it?"
I answered quietly, "Yes."
"I have an extra room....do you want to stay there?"
"I can't...I can't pay...."
"That's fine." He smiled again. It was warm. A warm gentle smile.
Later that day he finally introduce himself as Kakuro Valmittler. I was given a room with a warm bed and old hand-me down clothes.The weren't new, But I didn't care, It was more than I had ever dreamed of having. On my my eleventh birthday, Kakuro finally managed to convince his parents (who lived somewhere far away) to adopt me. That day I became 'Grey Valmitter'. I can never forget the joy bestowed upon me that day. I began school a short while after (Kakuro had been teaching me when he got home form classes). It was dreadful. The kids were so stuck up, I just couldn't resist it, I got into a huge load of fights. Kauro scolded me every time. By my second year of middle school I stopped picking them, but people kept fighting me anyway.
It's been six years since Kakuro found me and took me in. As good as that day was, this day is equally horrendous.
The sun was high and the sky blue.The room filled with people I'd never seen before. I watched miserably as they lower the the coffin into the cold dry ground.I was the only one crying. The others simply watched with sallom faces. Afterward Kakuro's parents approached me, told me I could keep the house and they would send money for food every month,a s long as I never bothered them. I thanked them, but stayed by his headstone weeping. I'd never cried before that, not with actual tears.
I stopped fighting completely after that. I just let them throw their punches. I put work into school like he wanted. I became a better person, but that didn't mean I wasn't lonely. Almost no one talked to me and if someone did I didn't answer. I didn't want their pity, their friendship, or their inevitable goodbyes.
While cleaning the basement one day, I found Kakuro's old guitar. I remember him trying to learn to play it. The squeaky notes filling the house. It was horrible music, but a comforting memory. I took it out of it's case and looked up 'how to tune an acoustic guitar' I found a useful enough page and got it all tuned. Not bothering to look up how to play it. I began to strum it. Such a sweet sound.
Over a week or so I taught myself to play it properly, and sung familiar songs to it's gentle sound. My note books filled with attempts at writing songs, until I found a perfect one. I practiced it for months, perfecting every note and every chord. I made the long walk to the cemetery with my four string on my back. Looking at the trees as I past. I came to it, the grave with a view of the sea from the top of this foresty hill.I Set down the case and grabbed my pick. I looked out on the sea and started my song, 'Good Bye'
do you remember that day?
do you remember who I was?
can you see me now
I can't see you
but I ...I remember
your warm smile ,gentle laughter
the times we shared.
hot coco by the frozen sea.
but now, but now
it's time to say good bye.
They say you're in the ground,
but I know
you're here with me,
death doesn't mean you're gone,
because I remember.
your warm smile gentle laughter
the times we shared
hot coco by the frozen sea
but now, but now
it can't be time to say good bye