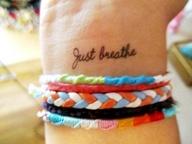 Part One of Just Breathe
I could feel his hands slowly shifting the bones in my shoulders as he pushed me up against the white walls by the bathroom doors, I moaned in agony as he pressed harder each time I tried to get away.
"Why? Why Charlie? How can you even think about telling anybody about that?" Screamed Jason, his face so close to me I could smell the quilt he felt about the incident and the stale smell of blood.
Two police office rushed towards us, pushing their way through the crowd of kids that came to see what was happening.
"Let go of her and back away slowly and you or no one else will get hurt." One of the police officers said,If i was Jason I would be listening, the officer had a voice that meant business. And the other one just stared as If she could see right through me, with pain in her eyes.
Jason leaned in closer right as the police officer grabbed him from me, Jason loosened his grip and gently pushed the hair away from my ear and whispered"Charlie,please please don't tell anyone what we did to her,please. He let go of me and followed the officers out. I could see the tears running down his face as i collapsed to the ground and I knew Jason what putting all his trust into me.