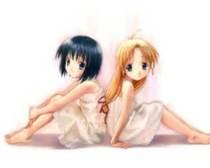 Young & Dumb
Dear Dairy,
Today me and Celest played today, it's been 2 weeks since we became friends. Her sister is really cute, even if she's still can't talk. Celest told me some very exciting stories. She swears they're real but I don't know, I don't think angels could be on Earth... Anyways, eight now Celest is eating dinner, once she's done we can go back to playing!
Dear Dairy,
Celest showed me the little creak down the rode. It has a big tunnel, and she says that monsters live in there so we can't go in unless we have a flashlight and a bat. I don't know about the monsters, but even in the day it's still really dark. Celest's mom wanted her to come in for a bit to do some chores, so right now I'm sitting in the tree waiting for her to come back out. The sunset is barely visible but it's really pretty in Oklahoma.
Dear Dairy,
Celest brought some cherries with her. She kept saying how that cherries are awesome and how if she could, she would marry them. We sat in the tree until Mum made me come inside. I really like Celest. She say's that we're both Young and Dumb!