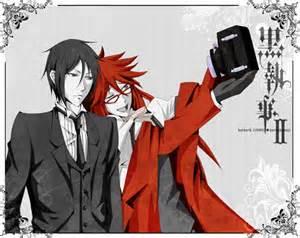 soul butler volume 1 Grell takes action (oh yeah)
Sebastian why must you always hurt my Gr-ell! (anime freak 101)? because he always try's to touch me that's why. but yet you give him tea and gifts afterwords why so nice then? because i'm simply one hell of a butler. that's no excuse mister Sebastian! (Gr-ell pops out with his chain saw) i'm back! Gr-ell have a seat pleas. so Gr-ell how was your trip to Tokyo last week. well me and Sebastian took some photos and he hit me a couple of times and then this lady was trying to kiss me so i cut her into pieces with my chain saw then Sebastian fell of the roof with my chain saw ( he was trying to take it from Gr-ell) and his clothes were ripped so he took off his shirt and oh my gosh it was so sexy! now you see what i mean anime freak. err you always pick on me (cranks up chain saw) i'm so pissed off at you i just want to kill you right now erg! Gr-ell stop! no i want him dead but my friend will hurt you if you touch Sebastian so back off okay walk this way ignore what he says to you and put your chain saw down. but he's so annoying err! i just want to hurt him after all he hurts me so why cant i hurt him back its so unfair to me err! Gr-ell shut up okay. listen to me!
i don't care put it down now or else no Sebastian for you understand my dear Gr-ell. yes but i'm still mad at him for being so rude to me. okay fine.
(reaper girl pops out) okay lets take in some action here! Gr-ell start your chain saw! okay with pleasure! ( sticks out tong). no Gr-ell don't hurt Sebastian okay or i will hurt you understand rubber band! hey shut up i know i'm skinny don't make fun of a lady! i'm not making fun of a lady am i. shut up it not right to make fun of a woman's weight! i'm not making fun of a woman's weight am i. uh fine your not. thank you Gr-ell. shut up i'm not happy right now. why because your not a female. shut up! yep that's the reason why your mad. poor Gr-ell are you okay? no does this face look like its okay! no but i can tell that your sensitive. i am that's how most females are. look it's hard to say this but your not a girl okay i will make you go straight! really and how are you going to do that. ill cos play as Sebastian for you. and that's going to make me happy how? watch and see you love it. no i wont. yes you will. no.yes. no. yes. shut up go ahead and try it wont make me happy so you might as well give up your decision because you wont look like him at all. you wanna bet. yes you bloody little winker you! your so hilarious my dear Gr-ell. as you say everyone else thinks differently.
oh my gosh you look just like him! can i feel of your face to see if it's just like his! sure Gr-ell sure. (giggles) i'm so happy and excited to see how well of a job you have done! skin so soft, eyes a perfect burgundy purple , hair is so jet black, oh my gosh your just like him i love you man! i love you to Gr-ell. ( hugs anime freak 101) you smell good. okay that's not weird at all Gr-ell. (giggles) i'm just saying you do and so does reaper girl over there.