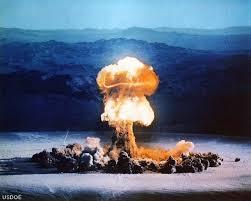 The war begins
I woke up to the sharp cracking of bullets, I quickly hoped out of the prickly hay and stealthily crept along the fence line. "BOOM!" I turned around to see a massive fireball, I started running for the farmhouse despite all the risks. I was within meters of the house hoping it wouldn't blow up. I opened the door sending a loud creek across the area. I froze. The thudding of footsteps nearby told me one thing, RUN, and that is precisely what I did. I ran like hell, but it wasn't very far until I was cornered. Freezing air cut into my face as the soldiers charged. I'm not a fight guy so it was flight for me. I ran into the house knocking over everything in my path. I grinned I've always wanted to do this. I climbed on top of the kitchen bench and then on top of the refrigerator.
"Where is he, search the area!" shouted one of the soldiers.
"Yes, sir" said the obviously lower ranked soldier who had just walked past my hiding spot.
"Kitchen is clear sir." When the soldiers were well away I climbed down and grabbed a knife from the kitchen, it might come in handy I thought gripping it tightly in my right hand.
"Did you hear that?" whispered one of the soldiers, "It's coming from the kitchen."
"I thought you checked there."
"Well we better double check," the soldier said stealthily walking towards the kitchen.
"There he is," shouted the other soldier aiming his gun at a figure in the hallway.
"Don't shoot, PLEASE, no, no, don't, PLEASE don't shoot..."