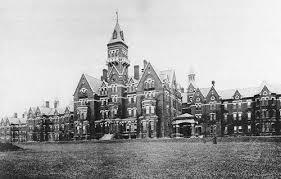 Welcome to Insanity
My name is Alice, I am a seventeen year old girl with jet black hair and light blue eyes, and I have no life. I am nothing but a speck of dust in the wind, always swept away never to return. I have nothing anymore, no family, friends, not even anyone to talk to, even if there is nothing to say. My history is unimportant but if you must know… My mom died giving birth to me. My dad left her before that though so I never knew him. News reporters documented that the entire city was out of power during the time. They later found that everyone had died in the hospital except the doctor holding me. I was a silent baby when I was born the doctor thought I was still born and later that day had killed himself because of the incident. I never cried, I never laughed, and I especially never smiled.
"So doctor, how do you like my story? Is it… CRAZY enough for you" I say angrily say to him.
"Umm…, I just want the best for my patients, I want you to live a normal life not be stuck here in the asylum" he says with a fake sympathetic voice.
I'm silent for the rest of his questions. I don't care what he thinks of me or if he wants to "help" me because I know that I have no reason to be here I was put here by the government. I was put here because I was blamed for the mistakes of other people. Everywhere I went I was the new kid, so naturally, they were afraid. Accidents always happened I would get angry and black out and when I come back I see black wings fold back… that's probably why I'm in an asylum because that sounds so insane. Or does it… oh well I'm already here so what does it matter.
He finally realizes I'm not listening.
"You are a lost cause… but I'll do what I can," he waves some men in white scrubs and they carry me off.
They walk me by some rooms with windows and I see a woman sitting in a chair and what looks like she holding a baby… but it's not there just her arms hanging with a baby she imagines. We walk through some double doors into a large gymnasium with tables and people surrounding them. They push me onto the floor and I scrape my knee.
One speaks to me in a mocking voice "Just another pig for the slaughter," and his friend laughs cheeringly.
I notice two girls walk in between the attendants and me. They just walk up to them like it's a normal day in the asylum and they speak simultaneously.
"Yes just another for the slaughter," and they rip his throat out with one quick motion.
I crawl back in horror as I've just witnessed them murder him. I look to the other to see what he would do and he just collapses and I begin to notice his eyes and face change color almost like a demon in a story book. Weird, what is happening, what just happened!
The twins turn and look at me. They stare at me and I can't turn away. I see their eyes… but as one pair one eye is the exact same as the twins other but it glows. Bright yellow and it tries to dim but goes back as bright.
"What… are you?" I feel a little rude about asking this but still curious.
Still simultaneously "You will find out soon enough". What did she mean… I see the black of wings form out from behind me.