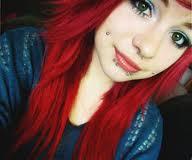 ☠ ~ Diamond's House ~ ☠
When Emma had escaped the 5 minute ordeal of absolute fear and cluelessness, she stumbled along the path, gasping for breath. What was that? Was it just a prank? She glanced at her phone. '11:30pm' it said. She was almost 30 minutes late to Diamond's house. Wait until she heard about it!
Once she'd arrived at the Smith's family home, Emma peeked around, admiring their front lawn. The beautiful grass was cleanly shaven, flowers bloomed from their pots, the little ornaments made the garden burst to life. And this was at night!
Turning on her heel in a fluster, the sound of heavy metal music blared through the house and out onto the doorstep where Emma was standing. As she looked up, she saw the beautiful smiling face of her best friend.
Emma had always been envious of Diamond's looks. Her bright red hair and piercings were to die for. Diamond always complained about being fat, but I'll tell you now, she was just skin and bones.
"Come in!" Diamond exclaimed, performing ushering motions as Emma stepped inside. After shutting the door, Emma noticed her brand new pyjamas. A cute Mickey Mouse shirt and pink shorts with furry slippers. She smiled.
"My parents are away for the weekend." Diamond whispered.
Emma giggled. "Why are you whispering?" Diamond shrugged, scratching her arm. Emma gasped in horror. On Diamond's creamy white skin, were two big cuts, blood dribbling out of them. "Oh..my..god!" Emma whisper-screamed, backing away slightly.
Diamond stared at her. "I woke up with them. That's why I wanted you to come over." As she rolled up her sleeve more, Emma saw that the cuts spelled out the world 'SELF-HARM'.