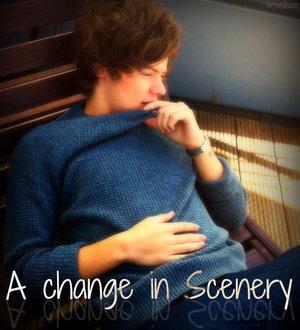 A Change In Scenery
Louis's P.O.V
I knew something was changing between Harry and me, but I didn't want to believe it. Niall is my spy. When I say he's my spy I mean he talking to Harry about what's going on between us. To be honest, I didn't want know now cause I'm scared that he doesn't love me anymore. Zayn says it's impossible for him not to love anymore, that we were so perfect, but you things change. Niall comes in, looking at me motioning me to go to the kitchen. I go in.
"You might want to sit down." He says. I already knew what was said when he said that. But I sit down anyway.
"Louis, Harry said that little spark was there but not anymore... I'm so sorreh." I knew I was crying. I stand up and run to Harry's room.
Slamming the door, Harry looks up from his sitting spot.
"Boobear, love, what's wrong?"
"I really thought you loved me for who I was, that you loved me for my little things. But you don't. YOU DON'T EVEN LOVE ME!" I cry out. I sink to the floor. I feel Harry's arms around me. I shrug him off.
"Louis, Lov-" I cut him off real quick.
"DON'T TOUCH ME! AND DON'T CALL ME LOVE! I KNOW YOU DON'T LOVE ME! THERE ISN'T A SPARK! REMEMBER?!" I look him. He looks shock then anger takes over.
"DID NIALL TELL YOU THIS?! SO WHAT?! I DON'T FEEL LIKE I DID BEFORE! I DONE WITH THIS! I LIKE SELENA GOMEZ NOW, OKAY!" I feel my heart break even more than before.
"Then be with her..." I stand up and walk out. His words were killing me inside.
Harry's P.O.V
"Then be with her..." Louis said, walking out of my room. I didn't feel like I did before. It was all Niall's fault. I run down stairs to Niall.
"NIALL YOU IDIOT! HOW COULD YOU?! YOU KNEW I WAS GOING TO TELL HIM LATER! I FREAKING HATE YOU!" I scream at him. I had never screamed at any of the guys.
"He asked, Harry!"
"THAT DOESN'T MEAN YOU TELL HIM! I WAS GOING TO TELL HIM TONIGHT!" I scream again. Besides, I think I still was in love with him and Niall knows it. UGH, GOSH NIALL! JUST RUIN EVERYTHING!