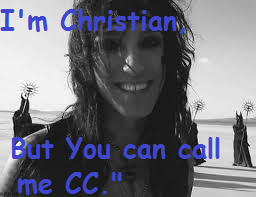 "I'm Christian, but you can call me CC."
"Shasta, c'mon wake up!" A small voiced blonde boy named Morgan said, shaking the black haired girl from her sleep. A very tired Shasta groaned in response, slowly sitting up and running a pale hand through her raven hair.
Shasta stood with a yawn and slowly drug her feet to the bathroom, she and the other members of her band currently resided in a hotel. Shasta turned the nob on the hot water in the shower, stripping off her clothes in the process, she waited until steam was pouring from above the shower curtain before stepping inside.
"Shasta, you in the shower?" A female voice asked from the other side of the door, "Yeah!" Shasta called back before hearing the door open and close. It was like this most mornings, Shasta showered after Hayley and Hayley would do her hair, makeup, ect. while Shasta showered.
Hayley was the base player/background vocals for the band.
Morgan was lead guitar/background vocals,
Joel was second guitar,
Garret was drums,
and Damon was keyboard.
They all shared a common dream in life, making it big in music, but so far they were going nowhere fast.
"So, have you been writing lately?" Hayley asked doing her eyeliner as Shasta sighed. "Yeah, go get my bag, there's a leather book and open it till you see the headline 'Is There Anybody Out There?' (Original Artist: Secondhand Serenade)." Shasta said rinsing out her black hair and finished washing, she heard the door open and close again then heard it again. "Found it!" Hayley said as she walked back in just as Shasta had turned off the water.
Hayley read the words quietly, humming a tune to herself. "Wow, this ones amazing! I think you have something!" Hayley said excitedly as Shasta wrapped a towel around her body before stepping out of the shower.
"I think it's the best one I've ever written," Shasta said shrugging taking the small leather book from her best friend. Walking out of the bathroom and into the girls room, the hotel room they were staying in had two rooms, a small living room, a small kitchen and two bathrooms. It sounds nice but it was pretty ratty. Most of the paint on the walls were pealing, cracks were in the walls, a lot of carpet stains, broken windows, rusted sinks and showers, and it just smelt nasty.
Shasta lifted the top of her suitcase and pulled out clean clothes, ripped up black skinny jeans, a faded KISS t-shirt, and knee high converses.
She silently sent back to the bathroom to fix her hair and makeup. "But seriously, Shash, it's good!" Hayley said and Shasta laughed lightly. "Thank you, I'll get the vocals and we'll all figure out what beats sound right with it." Shasta said straightening her hair, Hayley nodded and grinned in the mirror.
Shasta had always thought Hayley was much prettier then she was. Hayley had bright red hair and gray eyes, her nose was small, she had a thin upper lip but a fairly full bottom lip, her eyes were on the big side, and Hayley also had high cheekbones. Hayley was outgoing and loud and Shasta was also the same but was fairly quite at first.
After the two girls finished their makeup and hair they walked out giggling about Kellin Quinn and how adorable he was. (Come on but seriously have you not seen that boy?! Meow!)
"Guys, I'm going out for awhile I'll be back later." Shasta said walking out the door before anyone them could reply, "Calling all satellites..." She sung softly to herself as she made it to the lobby and out the front entrance. It was about six in the afternoon, Shasta was stuck where she slept all day and was up all night, like the vampire she was, (No she's not a vampire!).
She's always been that way, she silently sat on a bench and pulled out her song book and started writing again. After awhile she stopped and looked up at the sky, there was a lot of lights in New York, so there were not stars to be seen. Shasta sighed heavily, "Hey, are you alright?" A voice asked she turned her head to see a man, dressed in leather pants, a ripped up shirt, a bandana around his long black hair, and drum sticks poking from his pocket.
"Fine." Shasta said quietly looking away from him, the man took a seat next to her and smiled at her. "I'm Christian, but you can call me CC." He said smiling at her, she smiled back slightly, "I'm Savanna, but you can call me Shasta." She said smiling at CC, he looked oddly familiar but brushed it off as nothing.