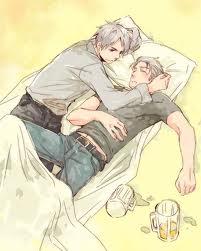 Good morning
I woke up in a cold dead sweat ; I had that dream again. I looked at the clock, It was minutes away from going off. I flung off my covers and fumbled out of bead, When my feet touched the cold floor unplesent shiver went up my back. I walked over to my brothers room an knocked on the door; while I waited I herd him growl and fall out of bed then the click of the door.
"Vhat?" he grumbled.
I smirked at his major case of bead head an I threw a towle at him.
"Get ready Gilbert ve have a vorld meeting today." I said softly.
He rolled his eyes and leanded up againts the door and made a face.
" Cant ve just skip?" he whined.
"No VE cant skip" I said.
" But I had plans today." he said with a smile.
"Vhat type of plans?" I asked.
He smiled and came closer to me; I felt my face get feverish. He played with my hair and he lightly skimmed his lips over mine. My face went completly red and I shoved the towle in his face .
"Just get ready" I mumbled.
I walked away to my room to get ready, and confuzed about what just happend.