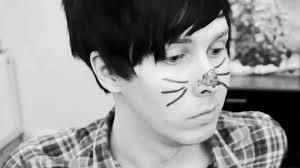 A New Patient
Dans POV
"So daniel why are you here?" a nurse asked. "I have no idea why I've been in this nut house for six months or more!" "Do you want me to tell you daniel?" "Please be my guest." "Well Dan you're in here because you cut your self very badly and tried to kill your self three times then you tried a fourth and when someone found you and stopped you, you hurt them." I knew exactly why I was there I just didn't want to admit it it all started when I told people I was bi maybe even just gay, but those days are behind me I'm totally straight now. "Dan Daniel hello?" a nurse interrupted my thought. "As I was saying we have a new patient here he has had a rough few years so be nice, come on in Phillip." I look up and there is a guy that looks about my age except he was beautiful. No wait Dan you're straight you don't like him. But why would a beautiful person like him be in a nut house like this, that was what I was determined to find out. We were released to go get ready for dinner it was about 6:30 so we all went to the dorms he had to take the bed next to mine it was the only one available. I introduced myself "Hey I'm Dan whats your name?" he said nothing maybe he knew I knew his name. " so why are you here?" again no answer. " is it s touchy subject?" "are you going to ignore me the whole time I know you?" no answer for a third time it was getting annoying. "well if we're going to be living next to each other you might as well talk to me." he still never answered then I got pulled to the side by a nurse. "What did I do this time?" I asked " nothing I just thought I should tell you about phil he hasn't talked in three years so you probably not even try." "why hasn't he talked in three years?" " we don't know why it all started when his dad died three years ago." "how did his dad die?" " he was in the car while Phil was driving and they got in a crash phil lived his dad didn't."
Phils POV
"Phillip?", the nurse asked. "PHILLIP!", I wasn't paying attention, I was too busy looking at my new 'room mate' or /WARD/ mate. I finally snapped into consciousness again and looked at the nurse. "This is Daniel." He looked up at me. I heard the conversation he and the other nurse were having, he was saved-by-the-Phil I guess. I didn't mind the nurse explaining about my... Silentness... Until she said, "he was in the car while Phil was driving and they got in a crash phil lived his dad didn't." I rushed out of the room, struggling to keep away the tears. The other driver said it was his fault, he was drunk, but I know that I was truthfully the cause of the crash. That feeling that was inside my stomache when I crashed is still buried DEEP in the pit of my sorrow-filled soul. Suddenly, a pair of arms wrap round my waistband a warm body hold me tight. I felt comforted, almost safe. From the corner of my eye I saw the most beautiful sideswept hair, Daniel... "Look, Phil, can I call you Phil?", he asked. I nodded in reply and he carried on. "I'm not like other people Phil, I care, really, so if you ever need a shoulder to cry on or just a friend to hug and help, I'm here for you..." I felt so touched, this was the first time in three years that anyone's ever actually paid any attention to me. I pulled him into a big hug and whispered into his ear, "thanks Daniel..." I looked at him, shocked at what I'd just done. My voice was squeaky and sounded awful (because it hasn't been used for three years!). He looked how I felt, surprised, confused, shocked and bemused. "Hey! Call me Dan! Oh, and don't worry, I won't tell them. It'll be our little secret... Just Dan and Phil."
"Phan!", I said quietly and Dan let out a loud (but not too loud) chuckle.