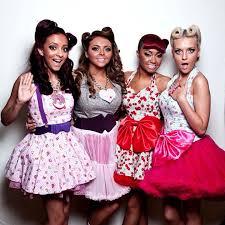 The ticket
"AAAAAAAAAAAGGGGGGGGGGGGGGGGHHHHHHHHHHHHHH!" Becky clasped the ticket in her hand and did a mini dance round the table, " I'm gonna see Little Mix ahha that is right ahha!"
Her mother laughed at her as she sunk down into the kitchen chair, breathless.Placing a cup of tea next to her daughter she asked,"So what do you think?"
"Oh mum it's amazing!"
There was a relived silence between them until Becky decided to break the silence.
" So are you taking me?"
"No,"her mum shook her head," Your going with millie."
Becky nodded for a second then a burst of shock came on her face...
" Wait does she know about it!?!"
"Yes Yes she knows. Don't panic she known since I got the tickets five months ago!" Her mum replied.
becky wanted to shout out millie knew but she didn't!
Little did she know that this concert to her favourite band was going to change her life for forever and forever!