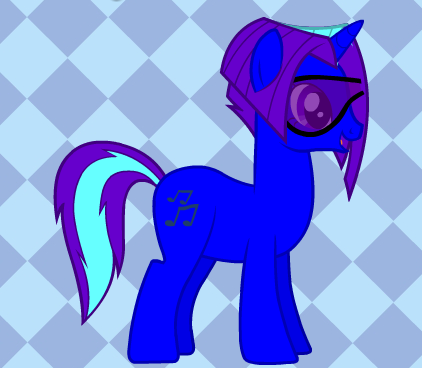 The Fashion Freak Out!
It was a normal day in Ponyville. I was still getting used to my wings, since I am an alicorn now, and my duties as a princess. I was reorganizing the library when Spike received a letter from Princess Celestia. He handed the letter to me and I read it aloud.
"Dear Princess Twilight,
I understand that you are very busy right now, but I must ask you to do a favor for me. I need you to mentor your cousin, Moonlight Sparkle , while I help Cadence with some problems. She will also be seeing Vinyl Scratch while she is with you. She is mastering the power of music. She will be arriving soon.
Your's Truly, Princess Celestia
P.S. She is bringing friends.
When I finished reading, I heard a knock at the door. I slowly walked to the door and opened it carefully. It was Rarity. She walked in and asked me to help her model her new line of clothes. I told her, "Not now, Rarity, my cousin will be here any moment and the princess wants me to mentor her for a month while she helps Cadence with something. I'm sorry." Rarity looked at me with wide eyes. She ran out the door and came back clothes, " Another pony from Canterlot! Oh, she must have the trendiest clothes in Equstria! These are the best I got and in all sizes too! She has to fit in one of these!" I looked at the dresses. I sighed, " Rarity she is bringing friends here." Now she freaked out. Before I knew it I had dresses all over the library! Rarity kept taking piles in and out. Finally, she had only one rack of clothes. There were about fifteen on there, "Ah, well now, that was taken care of. I will go ask Fluttershy if she can model for me." When she left I finally got a chance to sit down. I read the letter over and over again. I kept examining it as if it were a dish with something missing, but you didn't know what. After hours of reading the letter, I hear a knock on the door. I open the door and see a philly with dark blue body, a purple mane and tail with an ice blue streak, and a horn. Then I see two other phillies. One was yellow with dark purple mane and tail with a white streak and the other was light blue with a dark blue mane and tail with a yellow streak. It was Moonlight Sparkle and her friends.