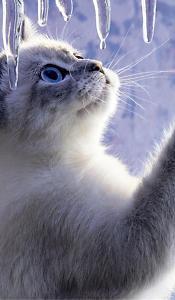 Zoe =)
Open your eyes
And recognize what you see
I'm one hundred percent real
Because baby I'm only doing me.
Isn't' trying to pretend to be nobody else
Isn't trying to impress nobody
I'm am who I am
And yeah, I'm that one somebody.
I'm that somebody that's living life.
I'm that somebody that's winning.
All my haters better bow down
Because I'm a girl that's achieving.
I achieved many things in my life.
Things that you wish you achieved.
Let's face it hater
You're just jealous of me.
Just because you say bad things about me,
Doesn't mean I'm going to believe it.
You're just wasting your breath child,
Because you're the one that's making me famous.
Telling other people bad stuff about me,
Yeah, thanks for making me the center of your world.
Keep on talking hater
Because I'm just another beautiful, smart and strong girl.
My name is Zoe
But people know me by IceCat
I can be your best friend or worst enemy
And a hater like you better remember that.
(*Author's Note: Hey guys, Steph here. Um….I just hope this poem was ok and I hope my best friend Zoe likes it! Because this is for her! Zoe, don't worry about that bitch that dissed you. Your better than that and I know this for a fact. Your one of my best friends on here and I hope that girl takes everything back from what she said to you. Sorry it took me so long to write and post this =/ I'm sorry if this isn't good, but if you want I can re-write it if you like. I know this ain't the best, but if you want I can re-write it and improve on it a little more, I don't have a problem with that. But Zoe, haters going to hate because they either don't have nothing better to do, or their jealous because you got talent that they wish they had smh. Just don't worry about it anymore and continue doing what you do best =) If you ever need me, I'm always here for you girl. I'm always here for my best friends whenever they need me. Remember that =) Love ya bestie! Xoxoxox Hope you like the poem! <3 BTW IF YOUR NOT FOLLOWING THIS GIRL, I SUGGEST YOU DO BECAUSE SHE IS THE BEST!!! =D)