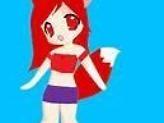 Naruto's wish: The meeting.
Disclaimer: don't own naruto, prototype, infamous, Canaan, devil may cry, or kingdom hearts.
Tendris: Sorry, but I'm not going to do character conversations until next chapter.
Naruto was beat to a bloody pulp. In the middle of the alley was a humanoid piece of meat. All was silent... But that couldn't be said in Narutos mind. Naruto was yelling out, trying to figure out where he is. He was heading down a long tunnel in a sewer."Hello!!" "Be silent child... Follow my voice." "Wh-who are you?!" "You can't find out if you don't follow my voice..." Said the assertive, yet angelic female voice. 'This is so weird! First I get the crap beat out of me by the villagers, and then they throw me into the sewers! Now I'm hearing voices!!' Naruto walks for about 10 minutes, but it seems like it's been an hour. Once he finally exits the tunnel, he enters a giant room. This room was bigger than... than... THE HOKAGE MONUMENT ON STEROIDS!! And in the middle of it all was a huge cage... with a girl sitting in a cage. She was wearing a red tank top that was WAY to small for her, a pair of short shorts, some black shoes, she was about his age, and the weirdest thing ever was... She had ears. And a tail. "Finally. We have no time to waste, Naruto. This might seem weird, but make a wish. Any wish." "Wha-" "If you don't, we'll both die!!" We'll die? Why will we die if I don't make a wish?' "How will we die?" "Do you remember the beating you got earlier?" "Yeah, why?" "Because of that beating you are bleeding out on the outside world!" "Wait, outside world?! Then where are we now??" "We're in your mind. Now, MAKE. A. WISH!!" "Okay, okay!!" Naruto thinks the wishes he can make... He could wish to fly, to morph his body, to teleport, to be able to learn anything instantly, to be able to make anything, or to be able to build his body to perfection... Or he could be able to do any of these with just one wish! The wish to be able to do anything!!! That was the perfect wish! That and the wish for more wishes, but the anything wish seems more reasonable. "I wish... That I can do anything." 'This guys is crazy! He doesn't even know the pain that wish is going to put him through!' "Are you sure? It's gonna put you through some pain, so if you want to back out, now's th-" "No... I want that wish." 'So stubborn... Just my type!' "Ok... Your choice." Kyuubi went through a set of hand seals that didn't look familiar to him, and there was a flash of light. Naruto stumbled back a few steps and blinked a couple of times to unblind himself. That's when he felt it. It was worse than anything he's ever felt before... Like something in his stomach was scratching out his insides. He fell like a rock and started to cry, but after 30 seconds, he felt a little better, and after a whole minute, he could stand. Once he did he asked "Did everything shrink?" "No silly! You just grew..." She trailed off with a glazed look in her eyes, a blush, and drool coming off of her chin. "... A six pack..." Naruto looks down to see his clothes stretched out to the max, and his six pack showing through his now skin tight shirt. He looked over himself and noticed a marking on his right hand. It was in the kanji for life. And n his left was the kanji for death. "Cool..." "H-hey naruto? Maybe it's time to get back to the real world." "How do I do that again?" "Just close your eyes and think about waking up." Naruto does just as she says and wakes up in the hospital. He looked around and looks in the shadows sensing somebody. 'How can I sense somebody without chakra?!' 'Your senses are 100 times stronger than most demons. That's why.' 'K-kyuu-chan?! Are we talking through my mind?' 'Yeah, pretty cool, huh? I think the person in the corner is your jiji. I smell bananas. "You can come out now, Jiji." 'How did he know I was here?! Most jonin would have trouble finding me!!' Sarutobi walked out of the shadows and into the light of the hospital. "You won't believe what happened to me last night, jiji."